Google is pushing a YouTube ad crackdown to convince users to buy into its premium services to remove ads instead of relying on ad blockers. It's part of an ongoing fight by Google and many other companies to get users to drop their ad blockers. Google's latest attempt appears to be causing issues for some users, and the company even said it may cause "suboptimal viewing" experiences if you're using an ad blocker.
The fight against ad blockers isn't exactly a new one. Whether you're trying to avoid all the random ads you get on Twitch, Youtube, or websites, or just trying to avoid some of the really crappy ads that some sites push (including YouTube), ad blockers have been a mainstay on the internet for at least the last decade and a half.
With Google's latest attempt at a YouTube ad crackdown, the company has now added code to the backend that checks for an ad blocker anytime you launch a video. The result has been seamless for some users, but others have complained about small hiccups when first loading a video, with some even mentioning seeing these issues on Firefox and Edge but not on Chrome.
I use several different browsers throughout my day, just because some sites that I visit work better on certain browsers, and I can say that I didn't have much issue on YouTube when testing it with an ad blocker. However, Google has noted that some users might have a "suboptimal viewing experience," according to statements made to Android Authority.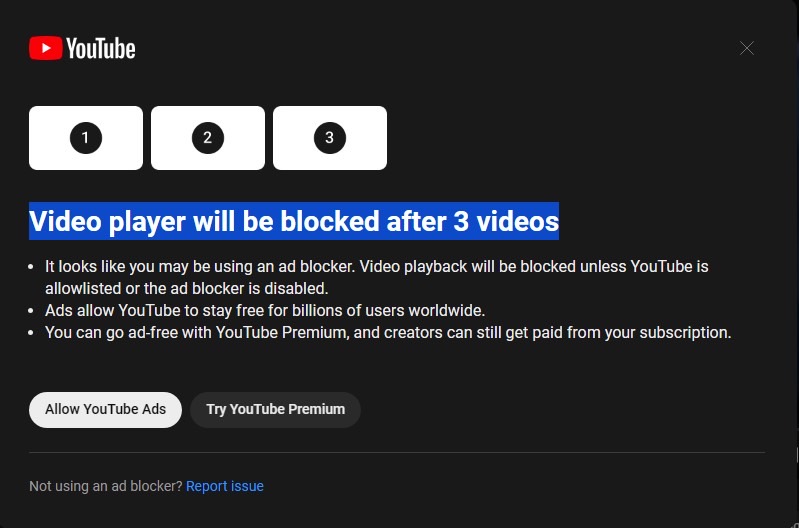 Google also says that it doesn't matter what browser you're using. If you're using an ad blocker, it's likely you'll run into issues, as the recent YouTube ad crackdown has been going hard at ad block users, even going so far as to disable watching videos when an ad blocker is installed. At the moment, it's unclear if the crackdown is working to increase YouTube Premium subscriptions or if people are just uninstalling their ad blockers and putting up with the ads.
While I'm not surprised that Google is cracking down on adblocker usage, I'm also not surprised that so many people turn to them. Ads online have been a major issue for the past decade, with some carrying malware and others just being obscenely intrusive. Recently, I've found myself having to watch two minutes of ads on YouTube and Twitch before even being able to watch the video or stream that I tuned into. 
If that trend continues, we'll likely see ad blockers look for other ways around the current moves Google is making. In the meantime, though, users experiencing issues with YouTube may want to try changing browsers or just disable your ad blocker and put up with the ads that YouTube throws your way. There is, unfortunately, no perfect solution here.

Source : https://bgr.com/tech/youtubes-ad-crackdown-could-cause-suboptimal-viewing-google-admits/