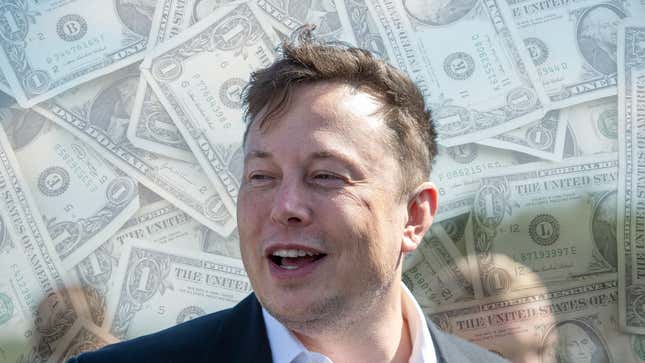 Last year, Elon Musk made a radical proposal for his shiny new version of Twitter. The little white checkmark in a blue circle that came with "verification" would no longer signify that your identity had been verified. Instead, it would be a paid feature of Twitter Blue; one that would you $8 a month. For this, you get a boost in the algorithm, the power to change the color of the Twitter icon on your phone, and many other thrilling bonuses. Will wonders never cease.
A small but unfortunately loud cadre of very nice boys signed up. If you're a Twitter user, you're now intimately familiar with this eightdollarati, as their tweets and comments show up at the tippy top of your feed. But here at Gizmodo, none of us took the bait.
Elon stripped the legacy verification marks from an estimated 407,000 accounts in April, leaving us Gizmodo, Earther, io9, and Spaceflight denizens check-mark-less (Gizmodo's official account still has an organizational gold check. io9, as an affiliate of Gizmodo, has a blue one). There's a freedom that comes with the unverified life, not to mention a decreased likelihood that people will see the things we tweet. The paid Twitter features are alluring, of course, but as the old saying goes, an $8 not given to Elon Musk is an $8 earned.
It's put the world of single-digit purchases in a new light. The dog treats, the lattes, the paid podcast subscriptions—they all have a new, refreshing musk to them. If you're like us — and if you look at the abysmal Twitter statistics, you probably are — you're not paying for Twitter Blue either. Perhaps, then, you could use a little inspiration for the money burning a tweet-sized hole in your pocket.
Here's a list of things we bought instead of giving Elon $8.

Source : https://gizmodo.com/elon-musk-twitter-blue-8-dollars-things-we-bought-1850496025