Great | Differentiating Features
Super AMOLED 120Hz display. Snapdragon 8 Gen 1 SoC. Included S-Pen. Android updates until 2027.
Good | Most Have It
Sleek design. Good battery life, cameras, and speakers.
Average | Competitors May Be Better
Android on tablets is still in the shadow of iPadOS. Performance can't match Apple's flagship.
Much like in the phone business, Apple's main rival in the tablet market is Samsung – well, except for Microsoft. Despite the release of the Galaxy Tab S9, the 12.4″ Tab S8+ remains our top tablet recommendation for Android fans. It's currently discounted at $599 for the base Wi-Fi version with 8GB of RAM and 128GB of storage, making it bigger and cheaper than the 11″ Tab S9.
Both S8+ and S9 tablets use a 120Hz Super AMOLED panel, with vibrant colors and perfect blacks. Both feature face recognition and have in-screen fingerprint readers as well as four speakers, USB 3.0 Type-C, and an ultrawide 12MP front camera.
An advantage over the iPad Pro is that Samsung's stylus is free in the box, rather than requiring another outlay.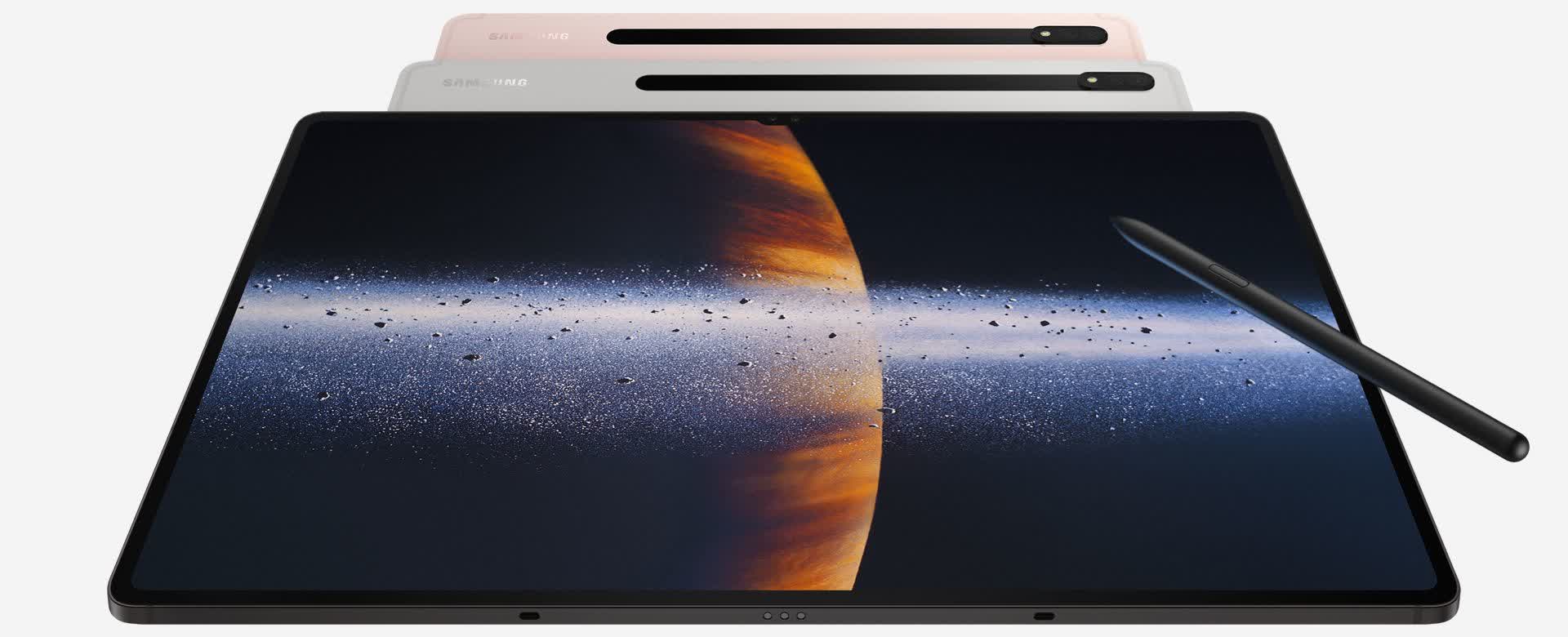 The Galaxy Tab S9 is still a good option thanks to its IP68 water and dust resistance. The S9 series is powered by the Snapdragon 8 Gen 2, which is more powerful than the Gen 1 chip in the S8, but still not in the same performance ballpark as the iPad Pro's M2. It starts at $757, but at that point it's too tempting to add $72 for double the storage and 12GB of RAM. That option in turn is close in price to the $947 Tab S9+ with the same internals.
If you prefer screen size and multitasking capabilities over portability and value, the 14.6″ Galaxy Tab S Ultra is the one for you. It also has an additional 12MP camera in the front. The S8 Ultra starts at $950 with 8GB of RAM and 128GB of storage. You can upgrade to 12GB of RAM and 256GB of storage for $100, but we have found an S9 Ultra with the same specs for $1,100.
Regardless of your size preference, you'll have to deal with somewhat disappointing software. Android on tablets has come a long way, and you do get DeX mode, so compatible apps work in windowed versions, but iPadOS remains superior.
One step down: Smaller, not slower
Samsung has launched the Galaxy Tab S9 FE, powered by its own Exynos 1380 chip, a 90Hz LCD screen with less pixels per inch, USB 2.0 Type-C and two speakers. We still believe the basic Tab S8 will be a better purchase, with the Snapdragon 8 Gen 1, a 120Hz LCD display, USB 3.0 Type C, four speakers and 8GB of RAM even on the cheapest version with 128GB of storage.
A true alternative: OnePlus Pad
Many companies make Android tablets, but for most their key feature is being cheaper than the Galaxy Tab.
The OnePlus Pad is different in a very obvious way: it's got a unique 7:5 aspect ratio, so it's just 40% wider than it is tall. That makes it much more comfortable to use in portrait mode.
The 144Hz LCD display features true 8-bit color (10-bit with FRC) for accurate reproduction. At 11.61″, it has the same number of pixels (2,800) as the S8+ in each line, and a rounded-up number of 2,000 lines. With four speakers, face recognition, 67W charging and an 8MP front camera, the OnePlus Pad isn't missing anything for content consumers.
Launched for $480, as of writing it can be had for $400 with 8GB of RAM and 128GB of storage. It has an optional magnetic stylus for $70, and a magnetic keyboard with a trackpad for $100, but it wouldn't be our first choice for content creation.
The MediaTek Dimensity 9000 chip isn't as fast as the Snapdragon 8. Also, OxygenOS is a much lighter Android modification than One UI, meaning than the OnePlus Pad will feel like an oversized phone more often than the Tab S.

Source : https://www.techspot.com/bestof/tablets-23-24/