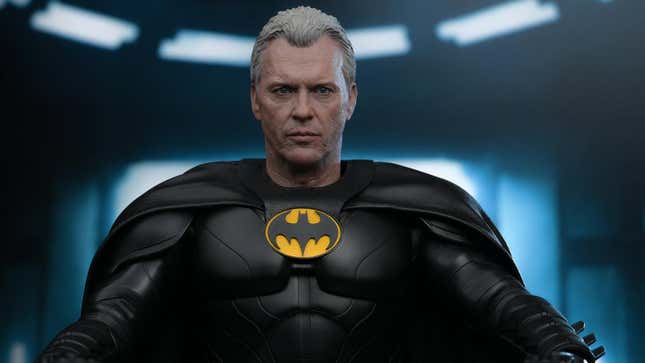 "You wanna get nuts? Let's get nuts." Now, is that a quote from Tim Burton's 1989 film Batman? Is it a quote from this summer's The Flash? Or is it you, when you drop $300 on a Batman toy? The answer, in fact, is "All of the above."
Hot Toys just revealed what it's calling the Batman "Modern Suit" collectible from the upcoming DC film, The Flash. It features an incredible likeness of Michael Keaton as Bruce Wayne, in the suit he primarily wears in the film, which is an upgrade from the suits he wore in his previous films. Of course, this is the first time Keaton has reprised the role since 1992's Batman Returns, despite there being at least six live-action Batman movies since then, so it's a big deal for a few reasons.
And it's a big deal as a figure too, offering the perfect answer to the question "What happened to that version of Bruce Wayne?" Well, he got old, but if the multiverse calls on him to help a fellow hero or two, he's ready to get nuts.
The figure is available to preorder for $305 at Sideshow right now, and you can check out some more images right here.

Source : https://gizmodo.com/batman-the-flash-hot-toys-michael-keaton-dc-films-gunn-1850476902