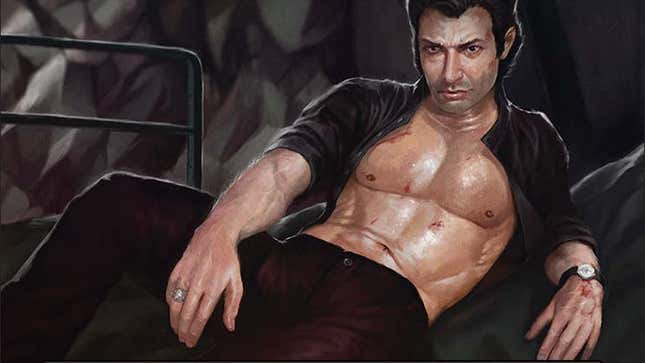 Today Wizards of the Coast is celebrating the 2023 "Secretversary," the anniversary of its Magic: The Gathering limited promo store Secret Lair—and it's doing so in style with an honestly distressing amount of Jeff Goldblum.
Announced today, Wizards will celebrate the anniversary of Secret Lair this year with a slate of specially-themed sets released as a huge "Superdrop," including a series of drops tied to the latest expansion to Magic, Lost Caverns of Ixalan.
A trio of licensed tie-in drops lead the charge, with two Ixalan sets crossing over with Jurassic Park—one themed around the iconic dinosaurs of the franchise, the other, the equally iconic Dr. Ian Malcolm (including, yes, unbuttoned shirt Ian). The third is a surprise video game twist in the form of a series of Tomb Raider cards, helmed by a special Lara Croft card with unique mechanics.
Other highlights include winter-themed drops like holiday set from artist Jesse LeDoux and snow-covered land cards, a set of space-exploration-inspired sci-fi art cards, and a new synthwave series. Each set will be available from the Secret Lair website starting today, November 20, at 12 p.m. ET, and will be open for preorder until 2:59 a.m. ET December 27. Orders made between now and November 27 will get 10% off, and any single order totalling $200 or more will include a special new promo card, "The Locust God." Click through to see what's on offer!

Source : https://gizmodo.com/magic-secret-lair-secretversary-2023-jurassic-park-1851035949