Every iPhone 15 model features a 48-megapixel camera — even the cheapest $799 model. That's a big change compared to last year's iPhone lineup, as only the iPhone 14 Pro models featured support for 48-megapixel photography.
Like last year, 48-megapixel photos are only possible if you enable ProRAW mode in the iPhone settings and then use the button in the Camera app.
However, iPhone 15 models default to 24-megapixel photos. But last year's iPhone 14 Pro Max still takes 12-megapixel pictures by default. Apple has explained why it's moving to 24-megapixel photos on all of the iPhone 15 models without addressing the iPhone 14 Pros.
As an iPhone 14 Pro owner not looking to upgrade to the iPhone 15, I wonder if I need that upgrade for my photography. And if I do, why am I not getting it?
The camera hardware
The 48-megapixel camera on the iPhone 14 Pro Max comes with trade-offs. You can shoot ProRAW pics, but they will take up more space on the handset. Also, it's not a zero shutter lag experience. Processing the image will take a little longer than the default 12-megapixel photos.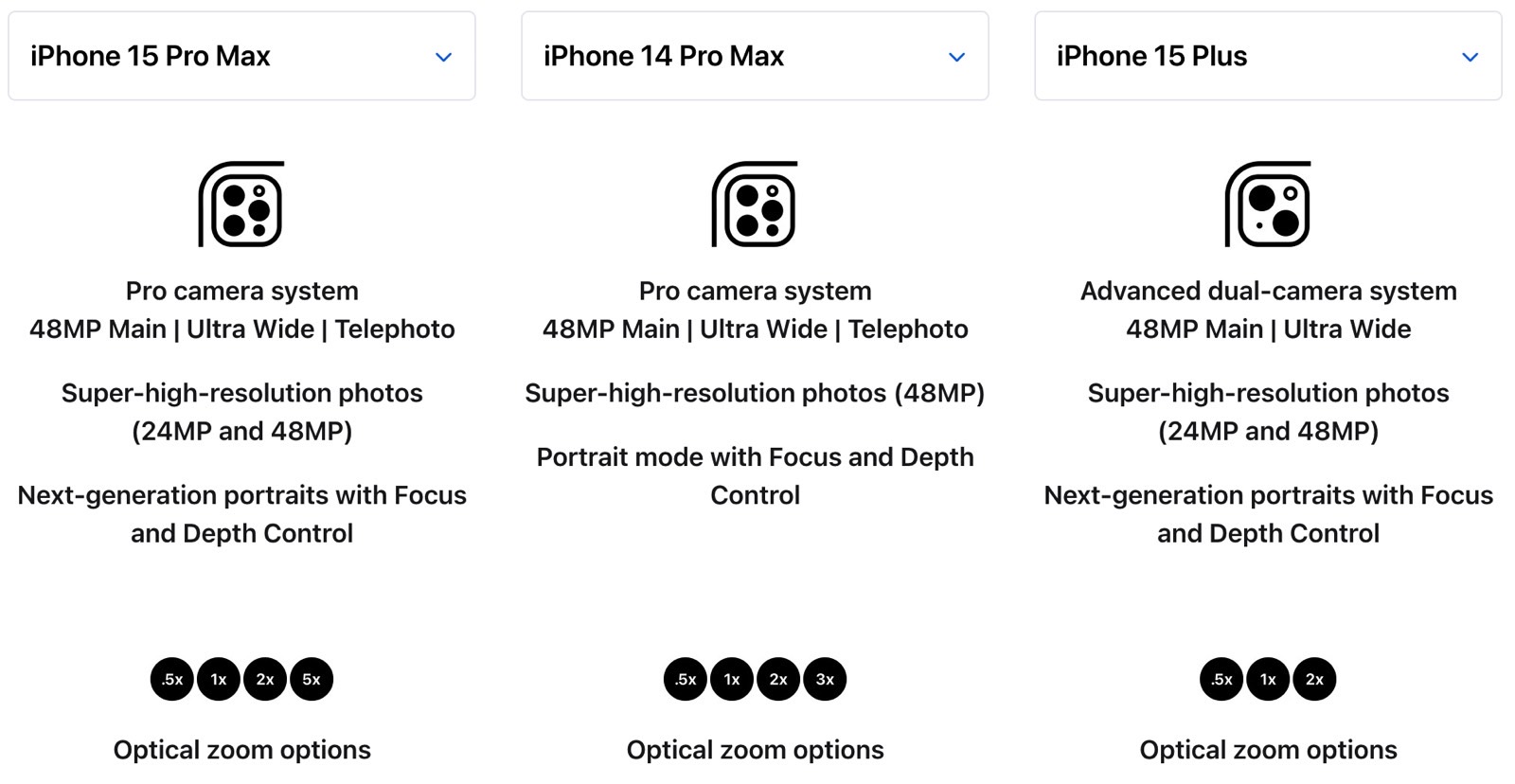 I'll also point out that the iPhone 14 Pro camera specs and iPhone 15 Pro camera specs are nearly identical. What is different is the mention of "support for super‑high‑resolution photos (24MP and 48MP)" on the iPhone 15 specs and comparison pages. Also, the iPhone 15 models support Smart HDR 5, while the iPhone 14 Pros do Smart HDR 4.
As for the base iPhone 15 and 15 Plus models, their cameras are nearly identical to the iPhone 14 Pros. But they also have the same "support for super‑high‑resolution photos (24MP and 48MP)" and Smart HDR 5 listed.
I'll also point out something I routinely mention when it comes to the base iPhone 15 model. It rocks the same A16 Bionic chip that powers the iPhone 14 Pro. It's essentially a cheaper iPhone 14 Pro.
Yet the most basic point-and-shoot camera experience on iPhone 15 might outperform the iPhone 14 Pro. And it's not just about doubling the megapixel count for default images.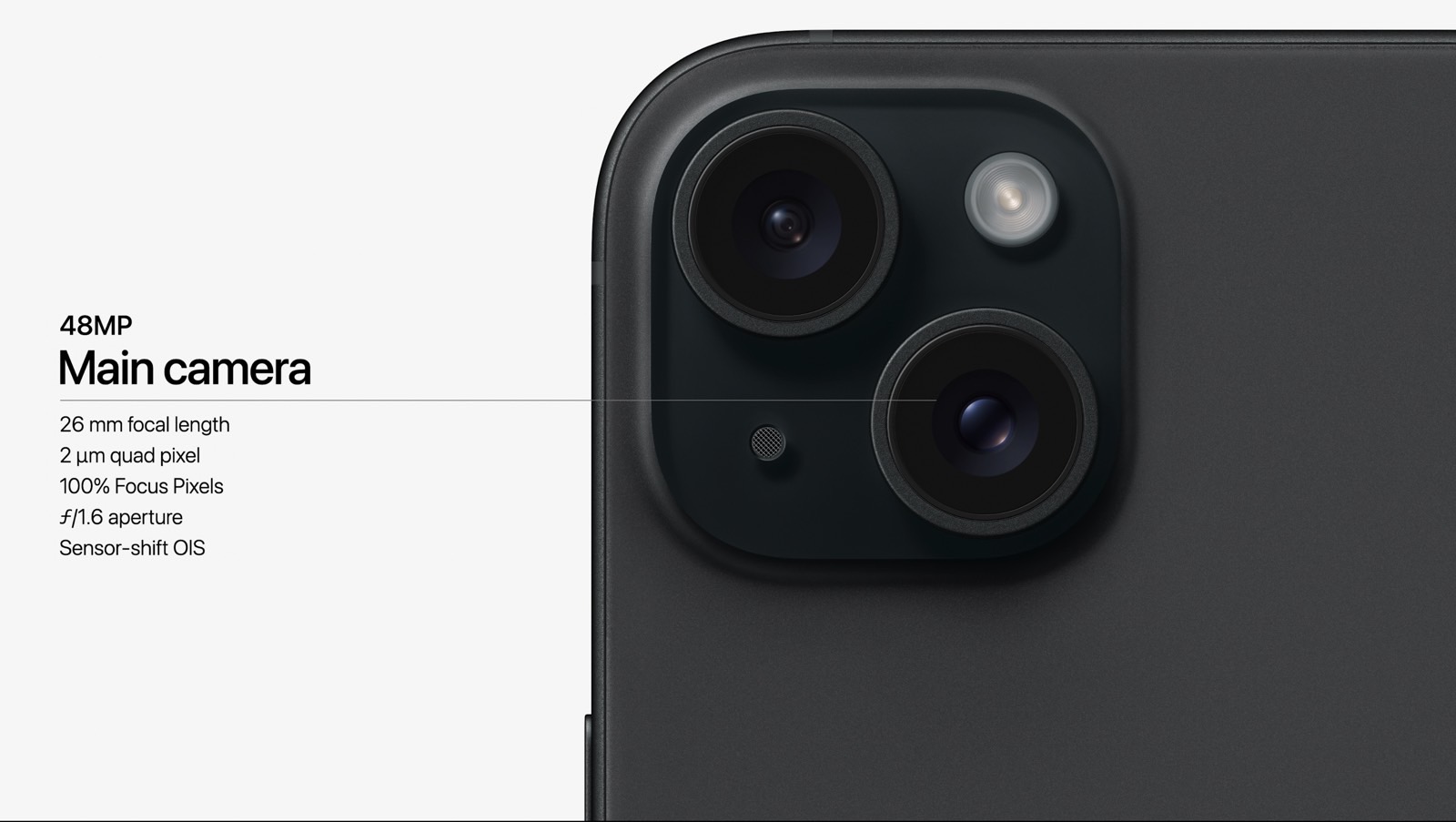 Apple's new 24-megapixel default
In an interview with PetaPixel, Apple's Vice President of Camera Software Engineering, Jon McCormack, explained the new default:
You get a little bit more dynamic range in the 24-megapixel photos. Because when shooting at 24-megapixel, we shoot 12 high and 12 low — we actually shoot multiple of those — and we pick and then merge. There is, basically, a bigger bracket between the 12 high and the 12 low.

Then, the 48 is an 'extended dynamic range,' versus 'high dynamic range,' which basically just limits the amount of processing. Because just in the little bit of processing time available [in the 24 megapixel] we can get a bit more dynamic range into Deep Fusion.

So what you end up with in the 24, it's a bit of a 'Goldilocks moment' of you get all of the extra dynamic range that comes from the 12 and the detail transfer that comes in from the 48.
Furthermore, you get zero shutter lag when you shoot 24-megapixel like I do when I take 12-megapixel pics on my iPhone 14 Pro. Going for the full 48-megapixel resolution means a slight delay.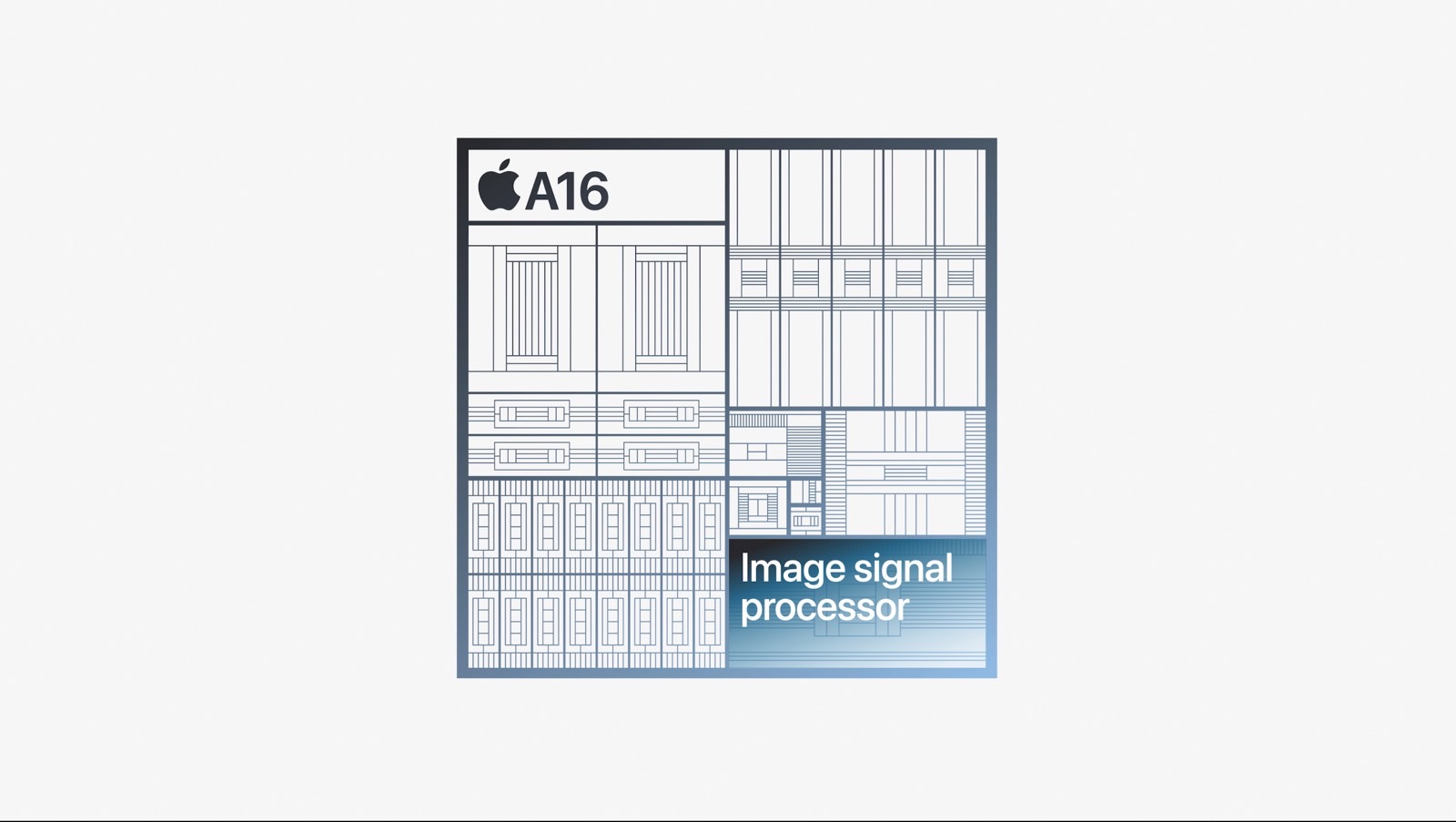 Given the iPhone 15 Pros and iPhone 14 Pros have essentially the same camera setup — the iPhone 15 models have nearly identical cameras to the iPhone 14 Pro — and that the same A16 Bionic powers the iPhone 15 and iPhone 14 Pro, I can't understand why the iPhone 14 Pro doesn't get the 24-megapixel default bump.
What about the iPhone 14 Pros?
Apple doesn't explain it. It could have to do with the iPhone 15's A16 Bionic. Maybe that chip has a new image signal processor that's different from the A16 Bionic powering the iPhone 14 Pro. Apple didn't detail it during the iPhone 15 event. Maybe it's that Smart HDR 5 support. Maybe Apple wants me to upgrade to the iPhone 15 to get better photos. Or perhaps it's a combination of all these factors.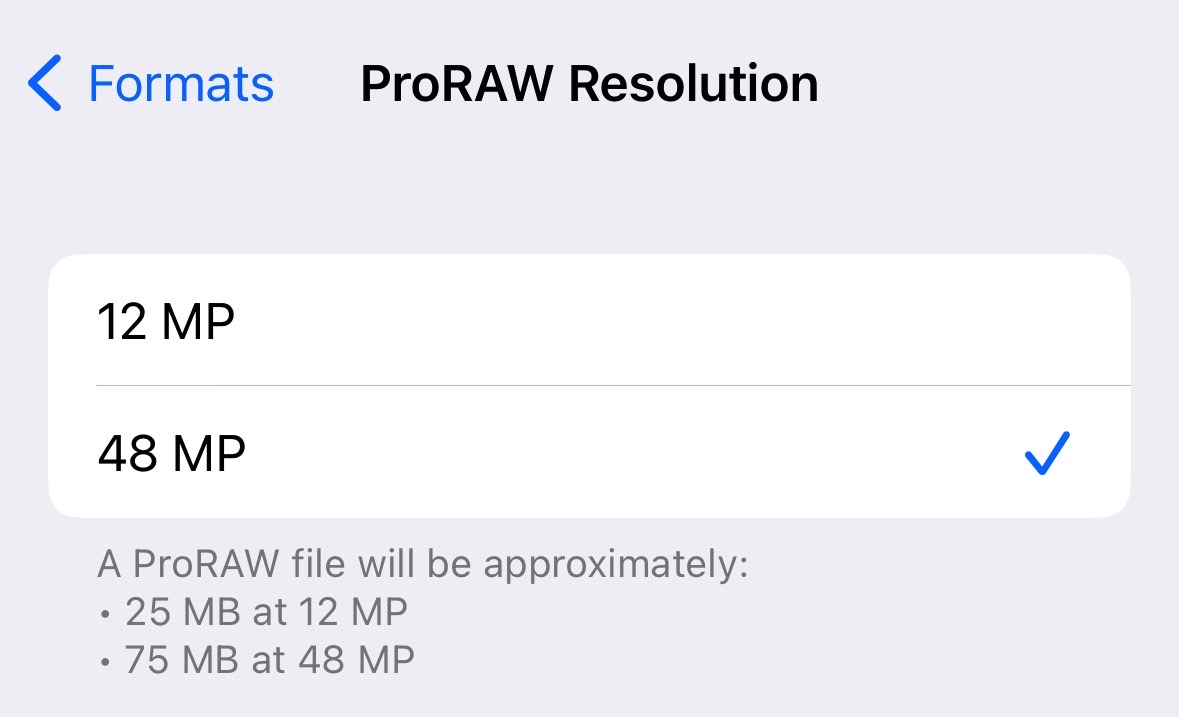 Whatever the case, the iPhone 14 Pro and 14 Pro Max will not get the 24-megapixel default pics. Not from Apple, anyway. Then again, the execs who talked to PetaPixel did say that Apple is happy with developers offering more advanced camera features to users.
I will point out that iOS 17 does bring a new ProRAW format. You can shoot 48-megapixel HEIF MAX images that are just 5MB in size, compared to 75MB for the 48-megapixel ProRAW Max photos. But there's no 24-megapixel ProRAW format here that could be just as good as the iPhone 15's new 24-megapixel default.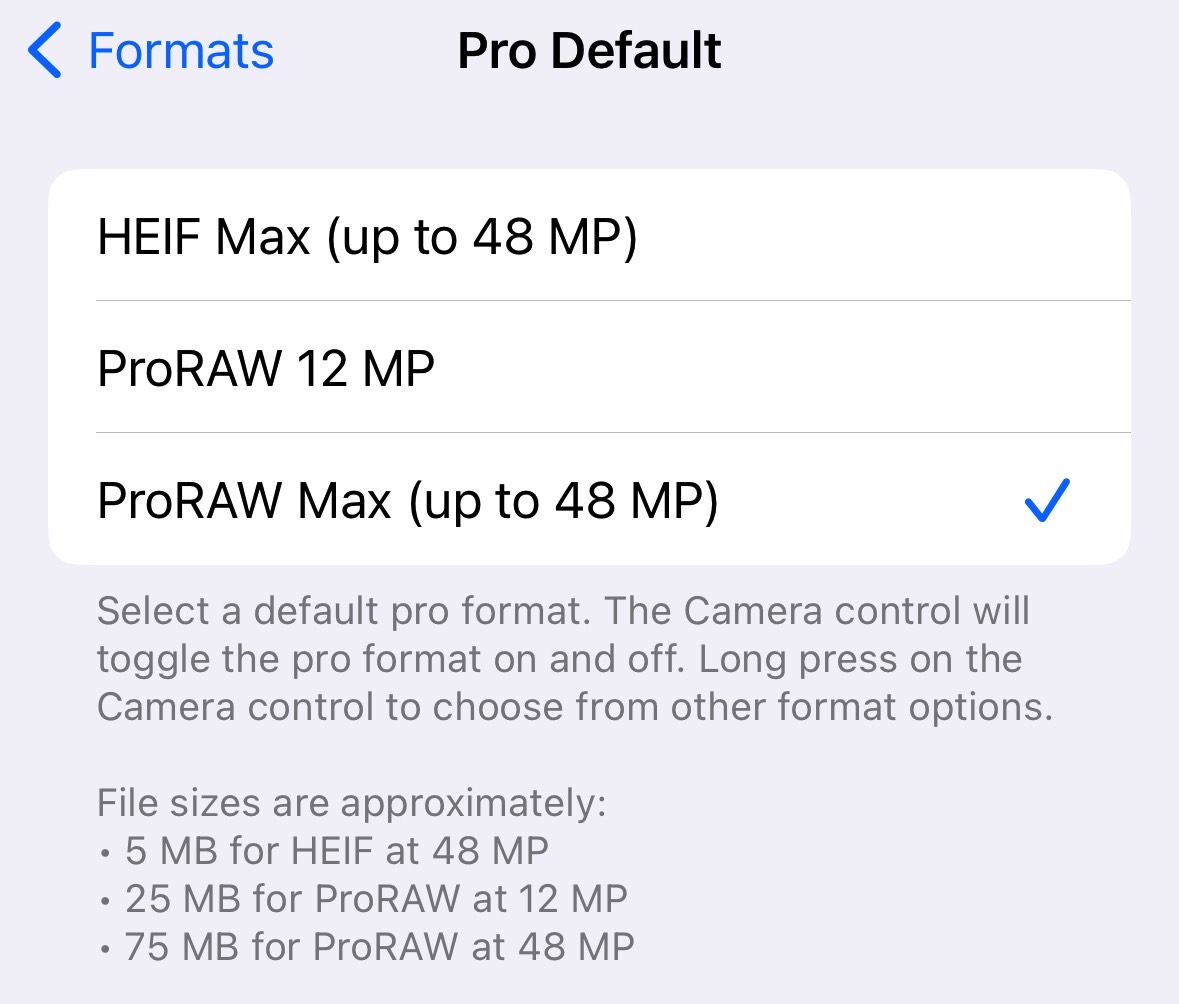 With that in mind, I'm not even sure that I need my iPhone 14 Pro to default to 24-megapixel photos for most photos. That said, I can't help but mind that the best 2022 iPhone hardware is not good enough to get the same 'Goldilocks moment' treatment for basic photography as the best 2022 iPhone hardware that Apple repackaged under the iPhone 15/Plus models.



Source : https://bgr.com/tech/iphone-15-photos-default-to-24mp-but-what-about-the-iphone-14-pro/