A report from reliable Bloomberg reporter Mark Gurman said earlier this week that Apple's iOS 17 update will turn the iPhone into a smart display-like device. The Bloomberg reporter said the iPhone will show more data via widgets when the handset is locked and held horizontally.
That might be a great feature to have on hand if you also use the Lock Screen widgets that Apple introduced last year with iOS 16. I might be in the minority, but I don't want the iPhone to become a smart display at any point, even when it's locked. The rumored iOS 17 feature is still exciting, especially if it's carried over to iPadOS 17 on the iPad. That's the kind of home-based device that could benefit from smart display functionality.
As I explained well before the iPhone 14 series launched, I wasn't thrilled about the rumored Always-on display functionality. And I didn't fancy the Lock Screen widgets that Apple unveiled about a year ago at WWDC 2022. Lock Screen widgets go hand-in-hand with the Always-on display on iPhone 14 Pro and Pro Max, of course.
But I don't need the extra clutter on the iPhone screen. Also, I don't want the iPhone 14 Pro's screen to stay turned on in Always-on mode. I'm one Face ID swipe away from checking any notification or app. Having widgets on the screen is overkill. And let's not forget that the Apple Watch renders most iPhone widgets useless anyway.
Not to mention that turning off the Always-on display boosts battery life on iPhone 14 Pro and 14 Pro Max. iPhone 14 Pro battery life has been stellar for me. I've reached a point where I no longer recharge the iPhone overnight. And I don't plug in the iPhone every day, either.
With all that in mind, I don't plan to use the iPhone's rumored iOS 17 smart display feature. I don't see a real benefit from it. Again, I'm one Face ID swipe away from getting the stuff I want rather than having the smart display mode bombard me with information. The feature will consume battery life, even if the iPhone is connected to power while docked horizontally.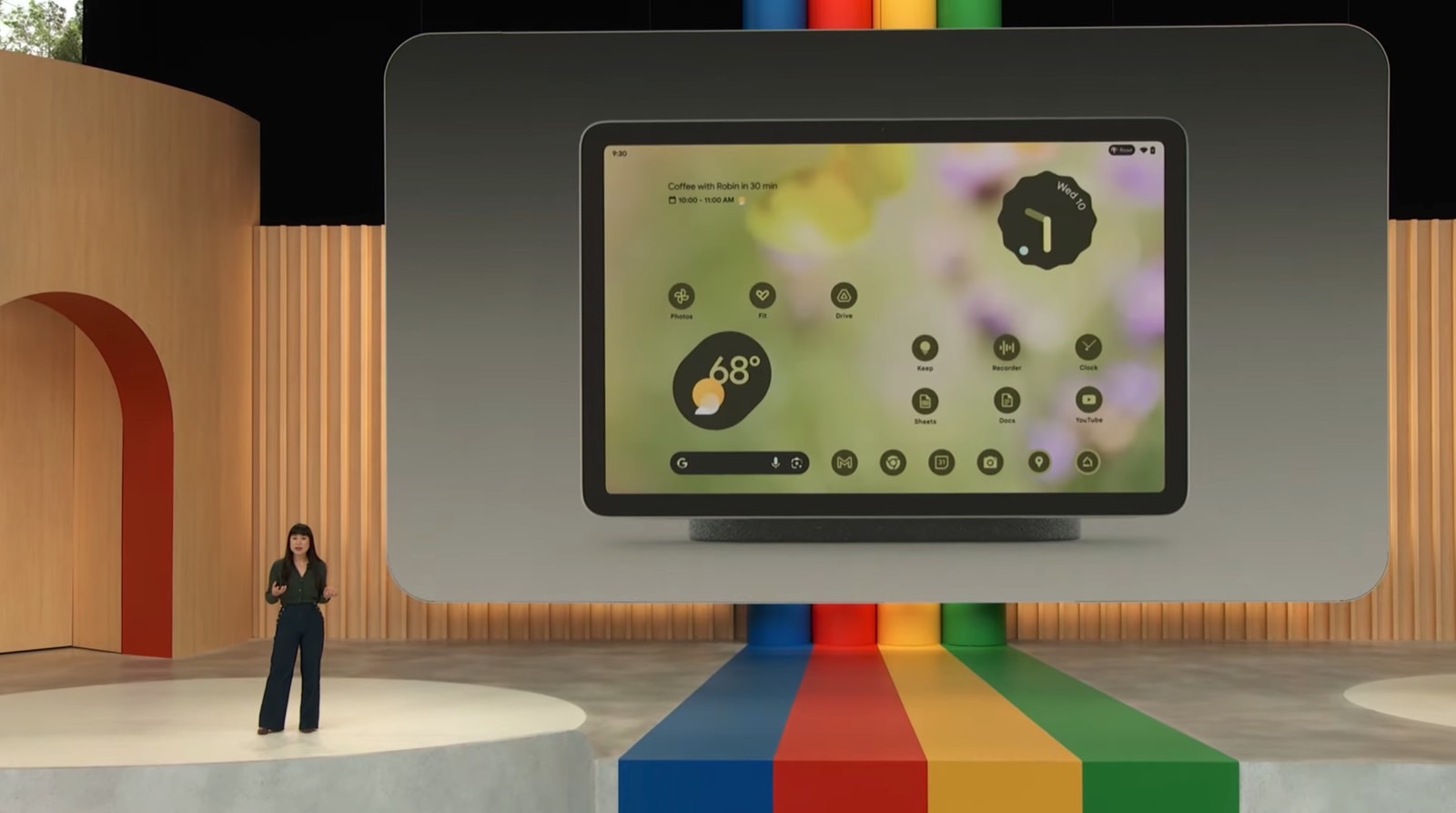 I'm only speculating, however, as we have no idea what the requirements will be for the smart display feature. Also, this is all still just a rumor that hasn't been confirmed by Apple.
But if the feature is real, I think it would work even better on iPads. And even here, I see think its utility is limited. I wouldn't be interested in Lock Screen notifications as much. But the iPad could provide quick access to entertainment and smart home controls directly from the Lock Screen.
Turning an iPad into a smart display makes even more sense for a shared device that multiple family members use around the home. Sadly, the iPad somehow still doesn't offer multi-user support. But the smart display functionality could be useful in spite of that glaring omission.
Google's recently released Pixel Tablet is one good example of the entertainment and smart home functionality features I'd love to get from iPadOS 17 on the iPad.
There are two obvious problems here. First, you need an iPad stand for the feature to actually be useful. Second, iPads feature LCD screens, so you might not want the display turned on at all times. But the smart display functionality could work when the iPad is plugged in.
We're less than two weeks away from the highly anticipated WWDC 2023 event. We'll soon see whether these iOS 17 rumors were accurate and whether the iPhone will get smart display functionality. Apple will also unveil iPadOS 17 at the show, with or without smart display support.



Source : https://bgr.com/tech/i-dont-want-ios-17-to-make-my-iphone-a-smart-display-but-it-could-be-perfect-for-ipads/