Oldie but goldie: In recent years, retro gaming has turned into big business. Home consoles have somewhat adopted a backward-compatible approach, and PC-focused initiatives such as GOG have infused new life (and new sale opportunities) into the cold, dead bones of gaming experiences born out of the MS-DOS command prompt.
True DOS gaming died in 1995, when Microsoft released the first edition of Windows 95. However, DOS games have never been more alive. The Internet Archive hosts hundreds of playable MS-DOS titles, and a new website called DOS_deck wants to turn the retro gaming experience into something that's both accessible and convenient for modern devices.
DOS_deck has been built to run seamlessly on Steam Deck, Mac, Linux and Windows using a desktop web browser. The site provides a selection of popular DOS titles, including the first, seminal Doom title, Wolfenstein 3D, Syndicate, Jazz Jackrabbit, Heretic, Commander Keen, and more.
Developed by Martin Kool, DOS_deck provides convenient features such as instant play, native controller support, automatic game progress saving, a virtual keyboard, and more. The site's interface has been designed to provide quick and easy access to pre-defined controls and full-screen mode, and there's a "Favorite" page for the games you like to replay the most.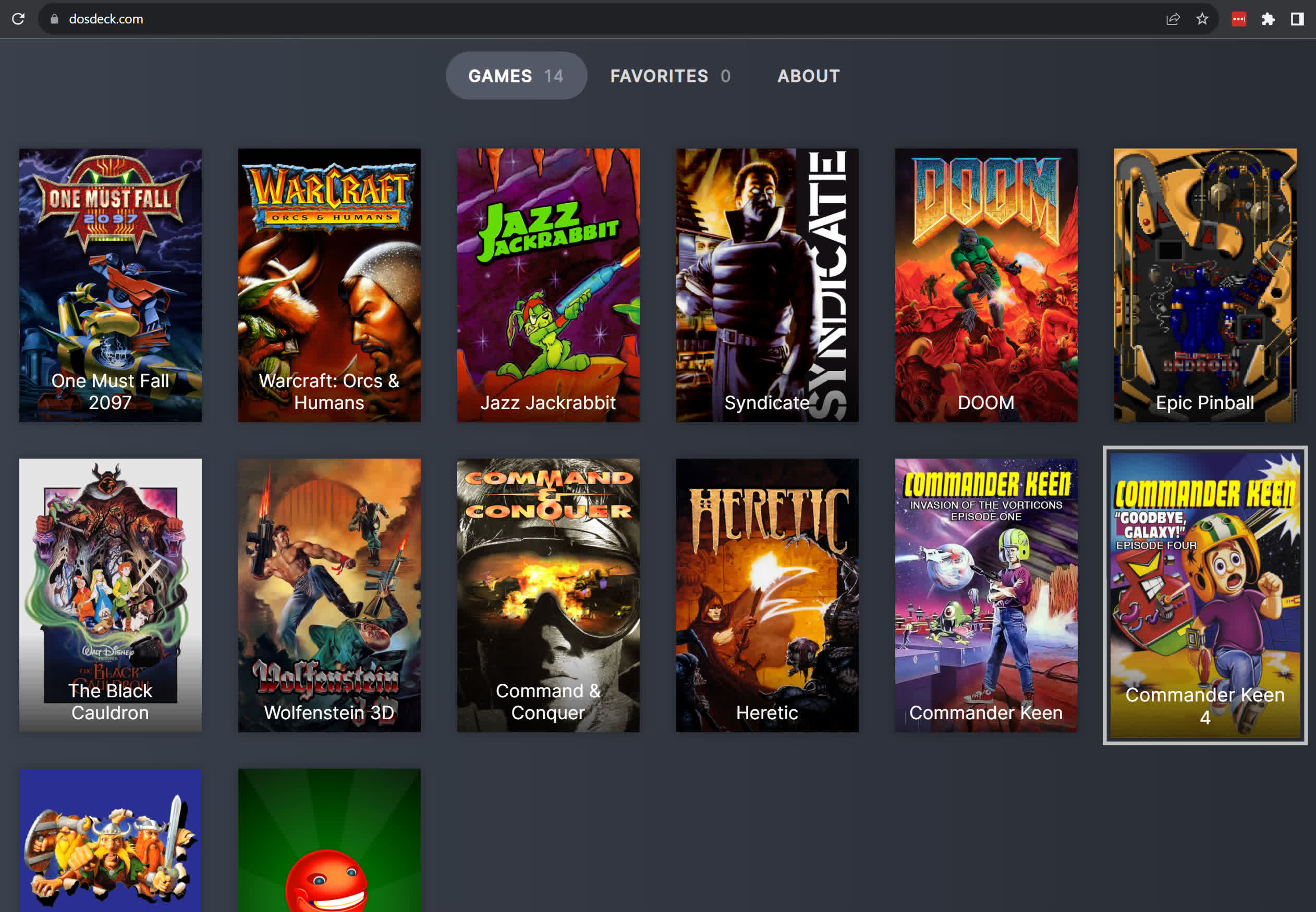 DOS_deck leverages the PC emulation prowess of JS-DOS, which is a software package that turns the DOSBox emulator into a web-based service. Thanks to these two programs, Kool writes, a site like DOS_deck can breathe new life into classic MS-DOS games. A "tremendous effort" has been put into creating a seamless experience for players who prefer to use a controller instead of the more traditional keyboard, notes the developer.
All the 14 games currently available on DOS_deck pass the legality check, Kool says, as they include shareware editions, freeware titles, demos of commercial titles (Syndicate). The website also includes "liberated" games, initially released as commercial products but now in the public domain.
DOS_deck's developer is planning to add new titles to the site, and the option for users to upload their own games may become available. MS-DOS once reigned as the PC OS standard, Kool remarks, marking a period of innovation and creativity that brought us entirely new gaming genres such as first-person shooters, real-time strategy, and more. DOS_deck's goal is to become a bridge between the past and the present, making modern players rediscover that golden age of prompt-based gaming.

Source : https://www.techspot.com/news/100906-dos_deck-runs-pc-retro-games-browser-steam-deck.html