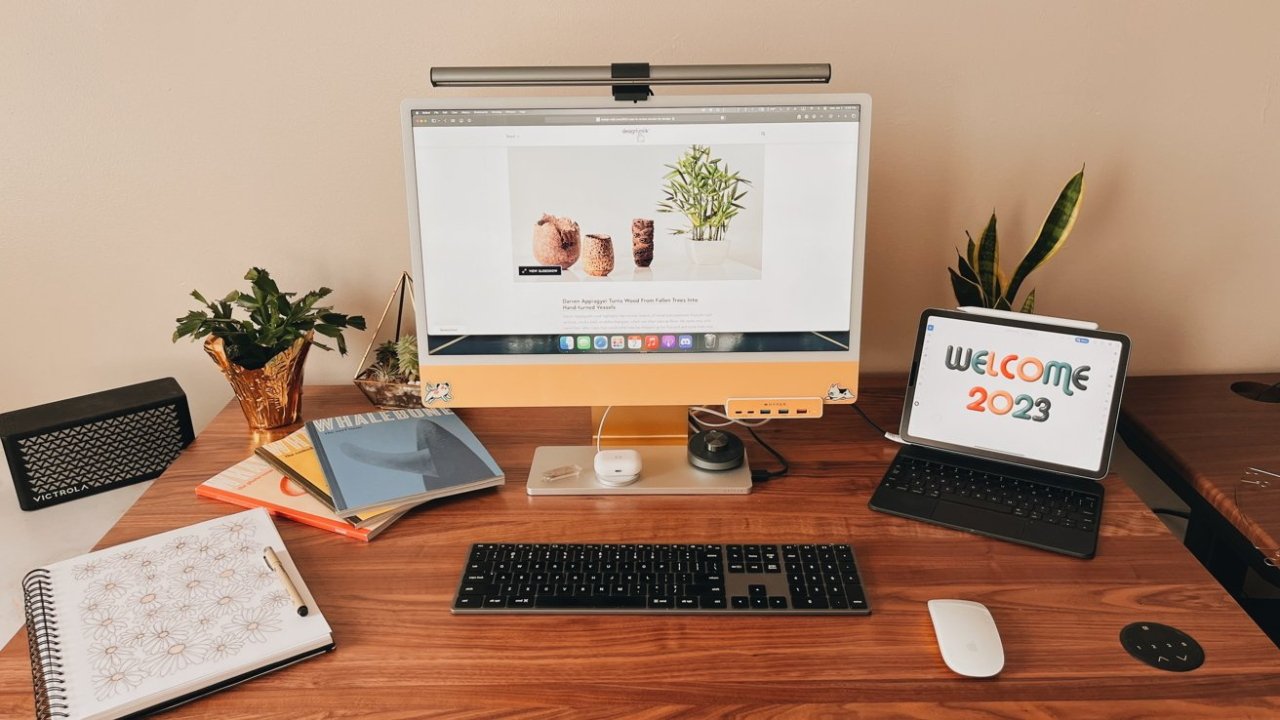 Boost your comfort and efficiency with these standing desks that AppleInsider has tested and reviewed.
A standing desk can be a wise investment for your well-being and productivity, as it can help you avoid the health risks of sitting too long while working on your Mac.
At AppleInsider, we work from home with our Apple devices in various settings and scenarios. We know how vital it is to have a flexible and comfortable workspace that suits our needs and preferences.
We have tested various standing desks for our home offices and evaluated them based on their features, performance, and value for money. Here is a roundup of the best standing desks we tested for Apple users working from home.
HumanCentric Workflow Desk — solid wood
The HumanCentric Workflow Desk is an appealing combination of craftsmanship and functionality. It is made by manufacturers in the Midwest, USA, using high-quality solid wood.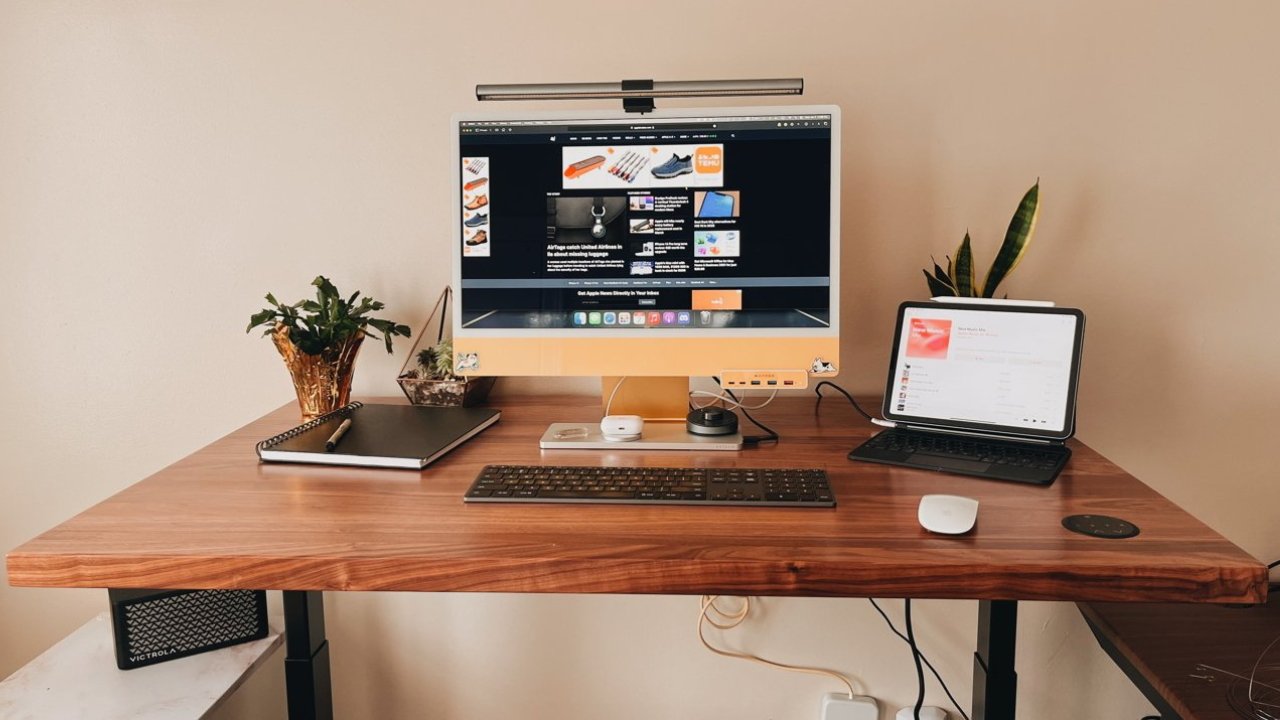 HumanCentric Workflow Desk
This desk lets you customize your workspace to fit your needs and style. You can choose maple or black walnut for your desktop, and both offer a natural and warm look to complement your Apple devices.
Depending on your space and preferences, you can also select the length of your desktop, from 48 inches to 72 inches.
The Workflow Desk has a touch-sensitive controller embedded into the desktop that lets you adjust the height of your desk from 21 inches to 47 inches. This way, you can enhance your wellness and productivity by switching between sitting and standing positions while you work.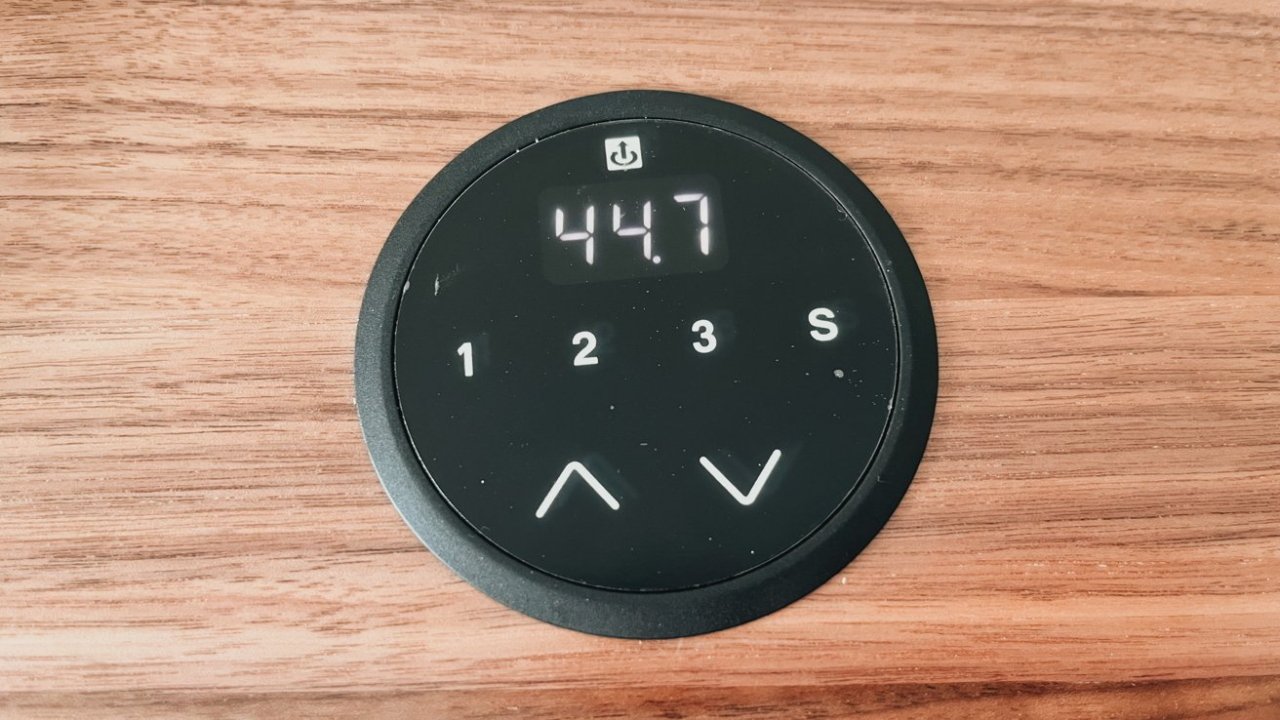 The HumanCentric Workflow Desk has a touch-sensitive controller
The desk comes with collision detection technology that keeps the desk from bumping into objects when moving up or down, safeguarding you and your equipment.
If you love wood finishes and want a solid-wood desk that offers elegance and functionality, you won't regret choosing the HumanCentric Workflow Desk. It is a worthy investment for those who value form and function in their office furniture.
Uplift Standing Desk V2 — L-Shaped
The Uplift L-Shaped Standing Desk V2 is a versatile desk that fits nicely in a corner and adjusts to your preferred height. This desk can hold up to 535 pounds and is sturdy and spacious.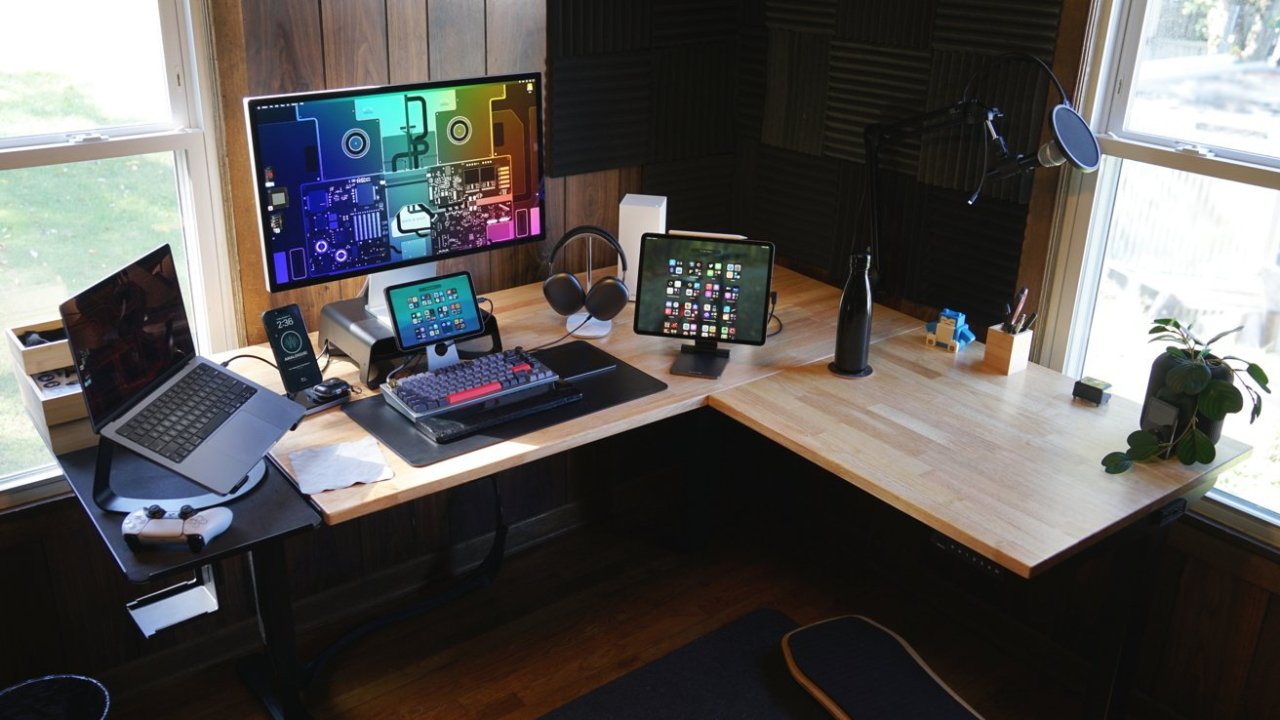 Uplift L-Shaped Standing Desk V2
The L-shape design gives you plenty of space for your Mac, iPad, and other accessories. You can also plug in two devices on your desktop with the power grommet, making it easy to charge your gadgets.
In addition, this desk's electric height-adjustable mechanism lets you easily switch between sitting or standing, and you can change the height from 25.3 inches to 50.9 inches.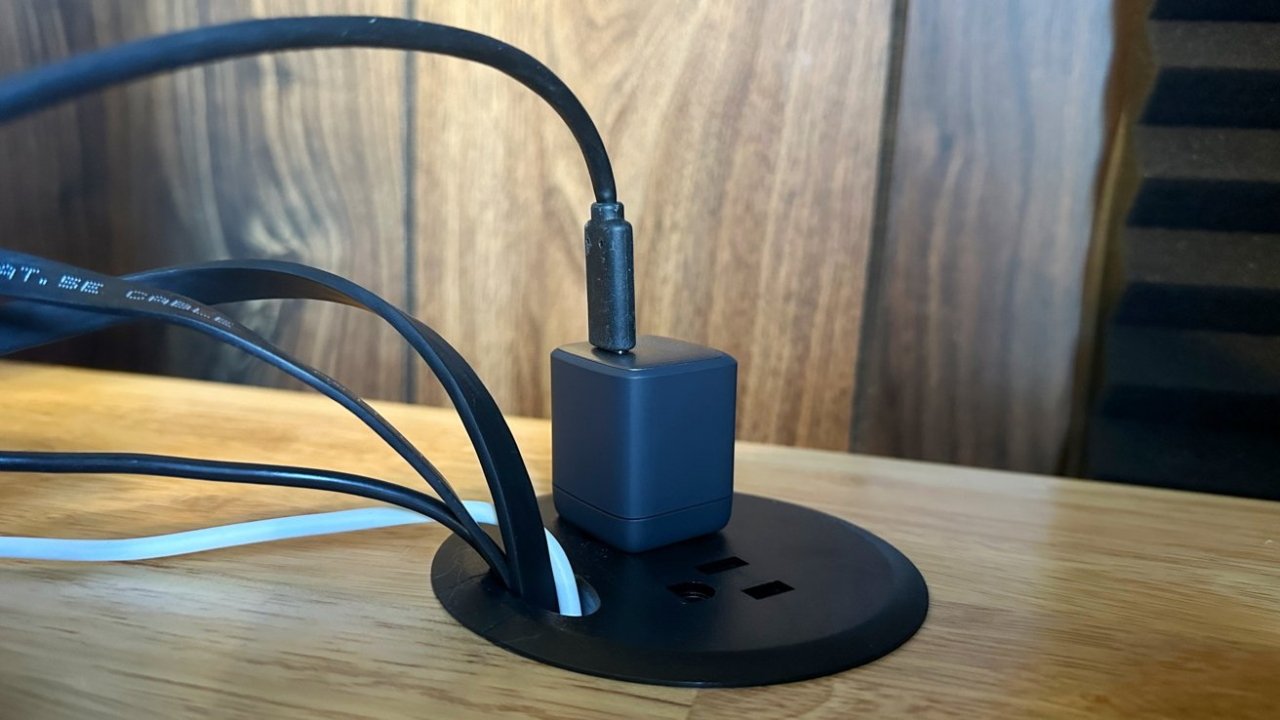 Uplift L-Shaped Standing Desk V2 has a power grommet to charge your gadgets.
The keypad lets you save and switch between four height presets with a quick touch. You can also lock the keypad and set maximum or minimum height levels.
The Uplift V2 desk combines clever accessory integrations with a roomy design, making it a valuable asset for users who spend a lot of time at their desks.
Jaxson Compact standing desk — app-enabled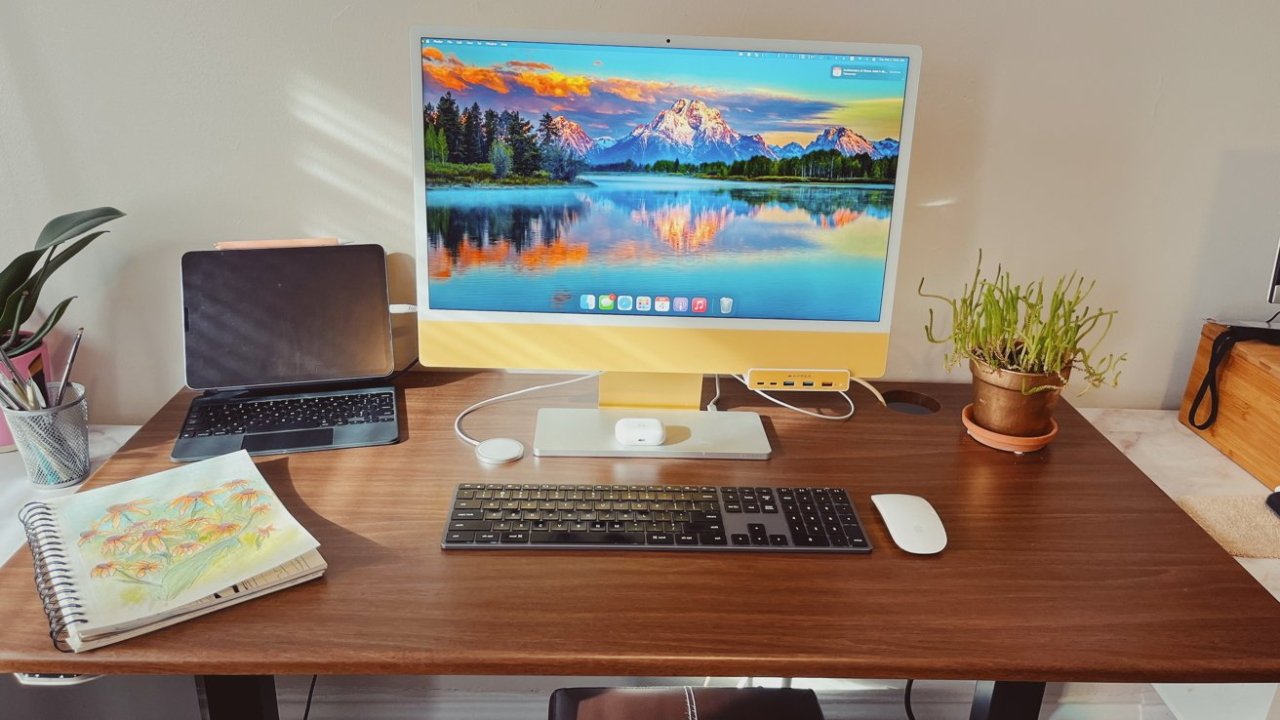 Jaxson Compact standing desk
The app allows you to save height settings and track your activity using an infrared presence sensor that measures your sitting and standing time. The app compares your data with your goals and reminds you to change position when you sit for too long.
The Jaxson Compact desk comes in various desktop finishes and sizes. We tried out the Bella Walnut option, which had a rich walnut color with a bit of texture.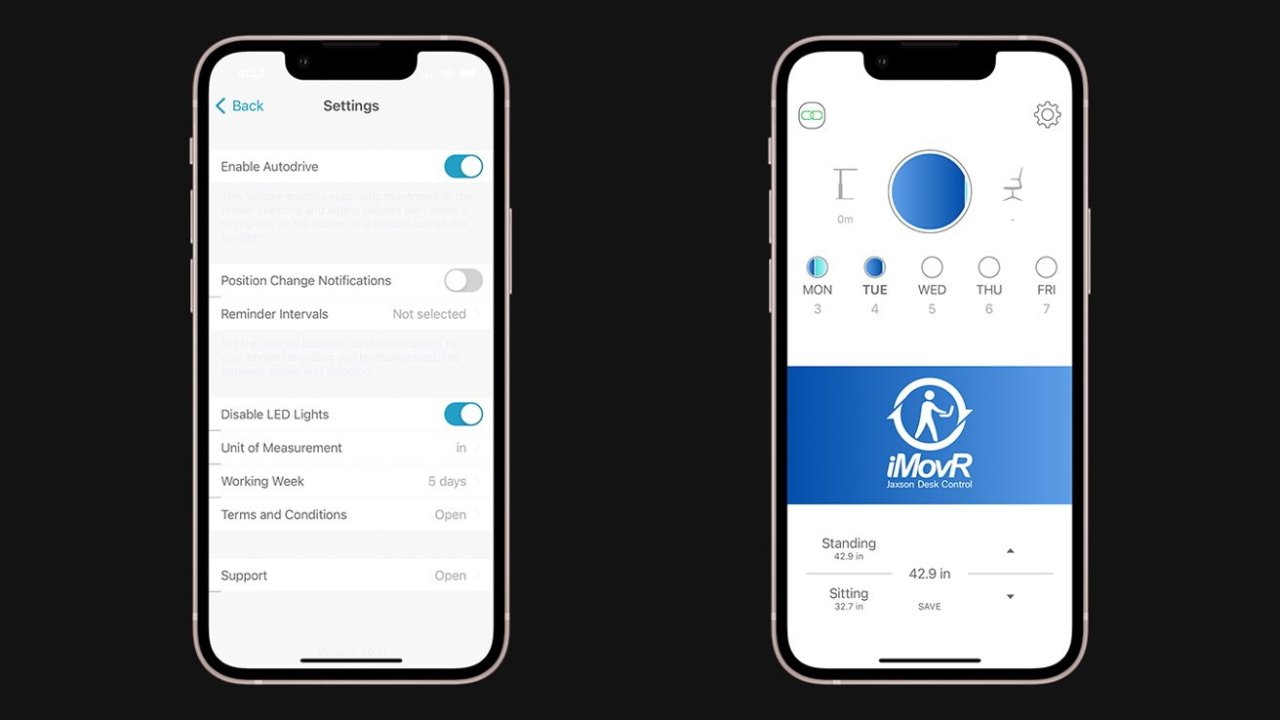 The iMovR Jaxson Desk Control app
You can choose from 24 or 30 depths, 47 to 71 widths, and 0.75 or 1.125 thicknesses. The desktop also has soft-contoured edges that are gentle on your wrists and arms.
The desk has a sturdy base that can adjust the desktop's height from 21.5 to 53.6, depending on the model. You can select a base with a single-stage or dual-stage mechanism that can handle up to 220 pounds.
The desktop height can move at the speed of 1.5 inches per second, and you can adjust the height level with a push of a button.
FlexiSpot E7 Pro Plus — budget-friendly
The FlexiSpot E7 Pro Plus is ideal for users who want a quality standing desk without spending a fortune. It offers excellent performance and flexibility at an economical price.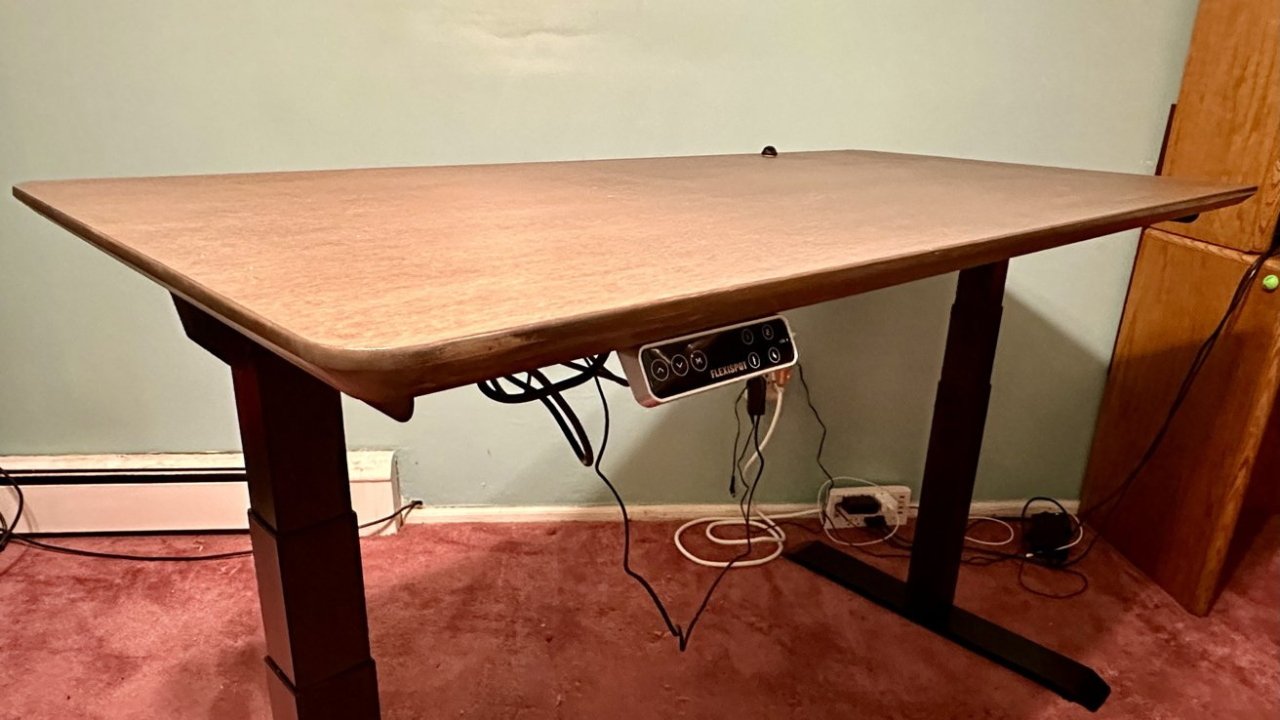 FlexiSpot E7 Pro Plus
With its powerful dual-motor system, the E7 Pro Plus lets you adjust the height of your desk from 22.8 inches to 48.4 inches. You can use the control panel to swap between sitting and standing throughout the day.
The E7 Pro Plus can handle up to 355 pounds of weight, so you can load it up with your Apple devices and accessories without worrying about stability. You can customize your standing desk with different desktop materials and sizes, ranging from chipboard, bamboo, or solid wood.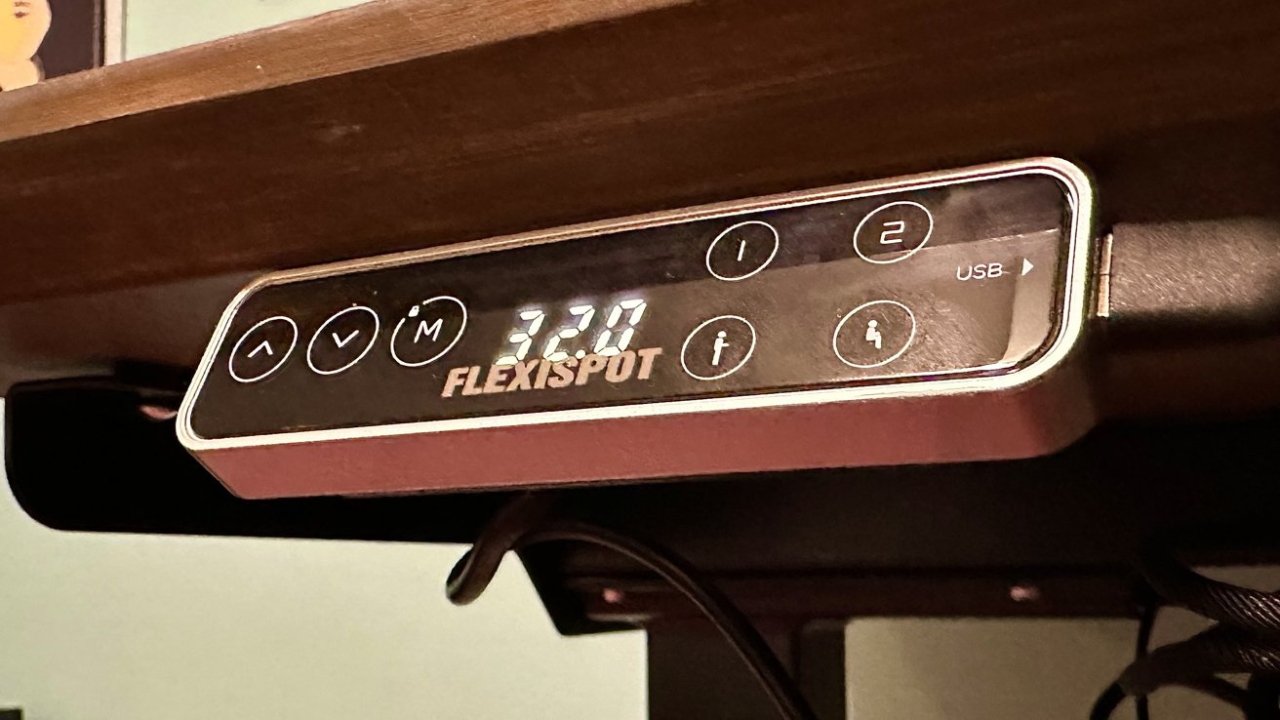 The control panel of the E7 Pro Plus
This desk has handy features that make your work more convenient and enjoyable. It has an LED screen that shows the current height and lets you save height-level presets for different users or tasks.
Additionally, there is a child lock function to prevent accidental movements. The keypad has a USB port to charge your gadgets as you work.
Get the FlexiSpot E7 Pro Plus Standing Desk (frame only) for $499.99 on their website, and add a chipboard top for $80. They have regular promotions, so look out for deals.
FlexiSpot Odin E7Q — heavy duty
The FlexiSpot Odin E7Q can handle heavy loads and let you adjust its height to your preferences. Whether you have multiple monitors or bulky equipment, this desk can efficiently support them.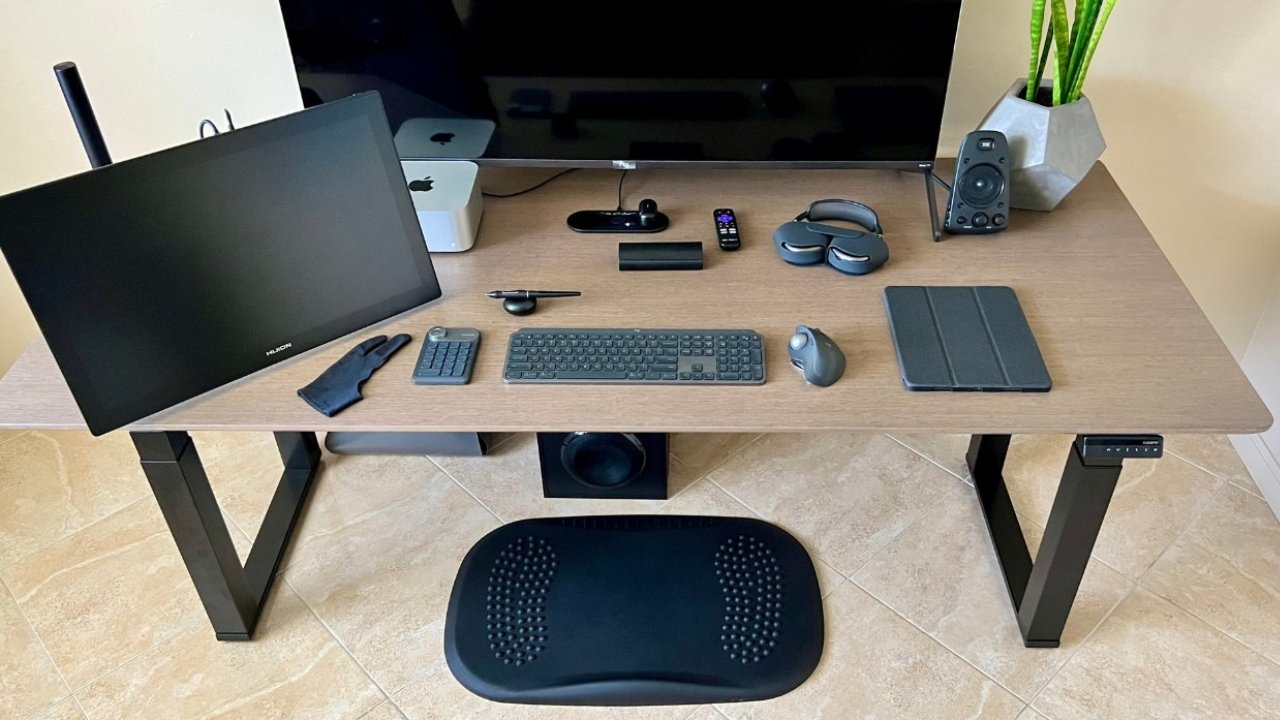 FlexiSpot Odin E7Q
The E7Q has four powerful motors and a durable carbon steel frame that can manage up to 440 pounds, and you can adjust the height from 23.8 inches to 49.4 inches.
Also, the desk has features that make it safe and convenient. It has an anti-collision function that lets you set how sensitive the desk is to obstacles when moving up or down.
The control panel lets you save three height presets for quick switching between sitting and standing positions. You can also lock the control panel to prevent accidental adjustments by children or pets.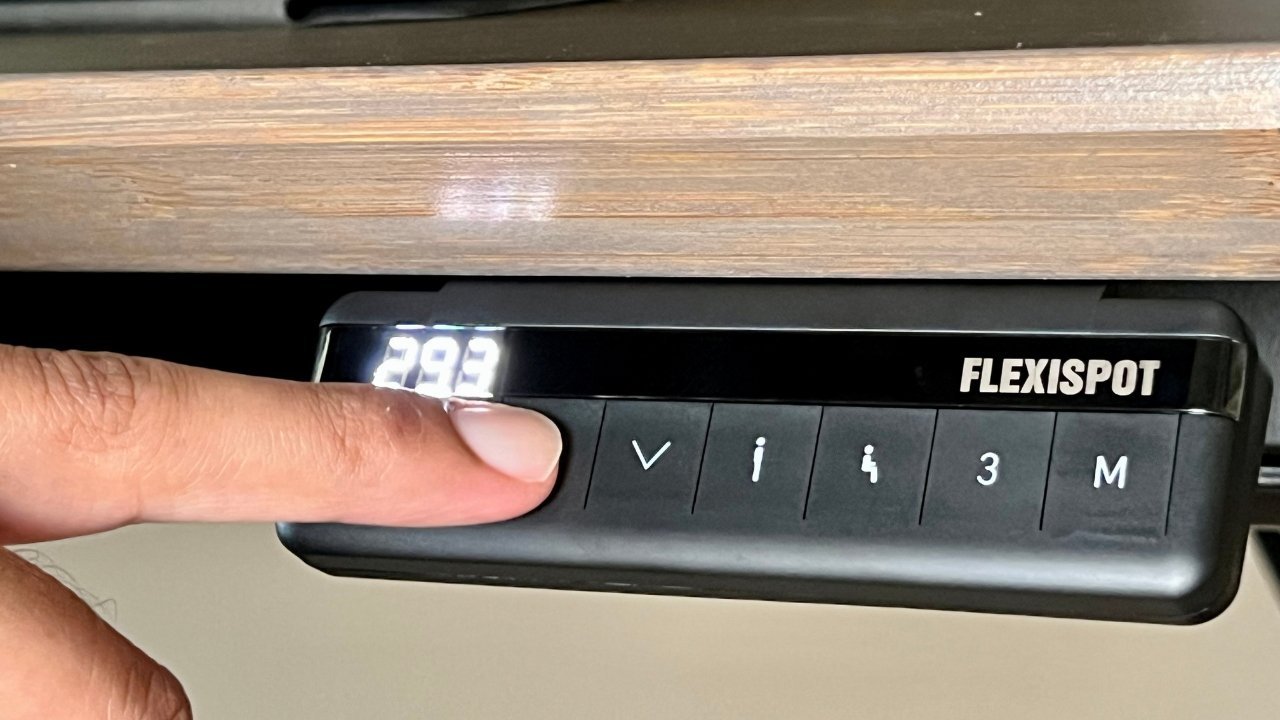 The control panel of the FlexiSpot Odin E7Q
This desk comes with a range of options to customize your workspace. You have plenty of desktop materials and colors to fit your style and environment.
Depending on how much room you have and how much desk space you need, you can select a desktop size from 48 inches to 94.5 inches.
The E7Q is a sturdy and robust workstation that can handle hefty equipment and is best for users who need a desk that can fit their heavy equipment and offer them plenty of room to work.
You can order the FlexiSpot Odin E7Q desk from Office Depot. The retail option is currently discounted from the $1,599.99 retail price.
Lillipad — temporary
Working from home doesn't always mean having space for a dedicated office or an oversized standing desk. That's where Lillipad excels — it can fold to a slab and be tucked away in a closet or under a bed.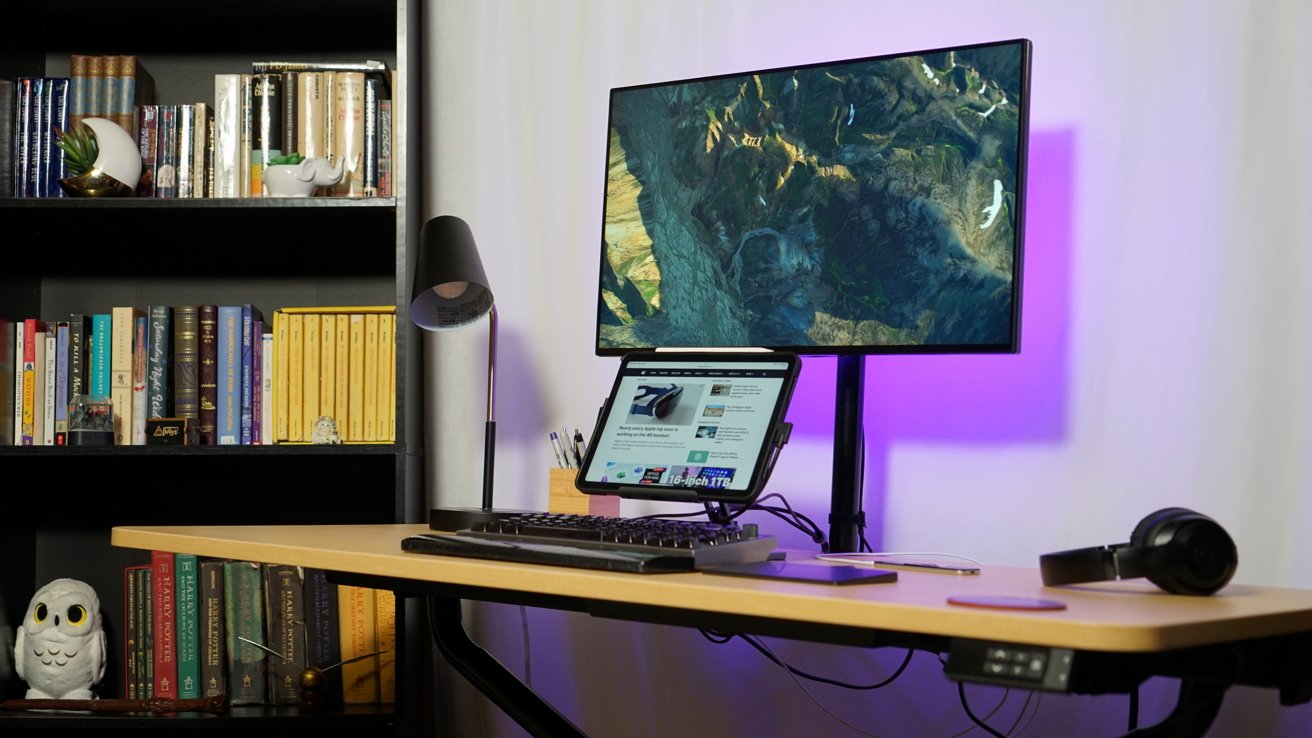 Lillipad is a sit-stand desk that can fold up
The Lillipad sit-stand desk is an all-in-one solution that requires no assembly, has a power strip integrated with the desktop, and can be configured with a monitor arm. It has an operating range from 27 inches to 48 inches and shrinks to 6 inches when set for storage.
The 48-inch tabletop is spacious and can handle up to 75 pounds of load. The legs support the desk from the back, so there's a little give in the top surface, but not enough to be an issue.
There are three outlets in the included power strip, plus three USB-A ports and a USB-C port for low-power devices. The desk also has an anti-collision function to keep it from problems when raising or lowering.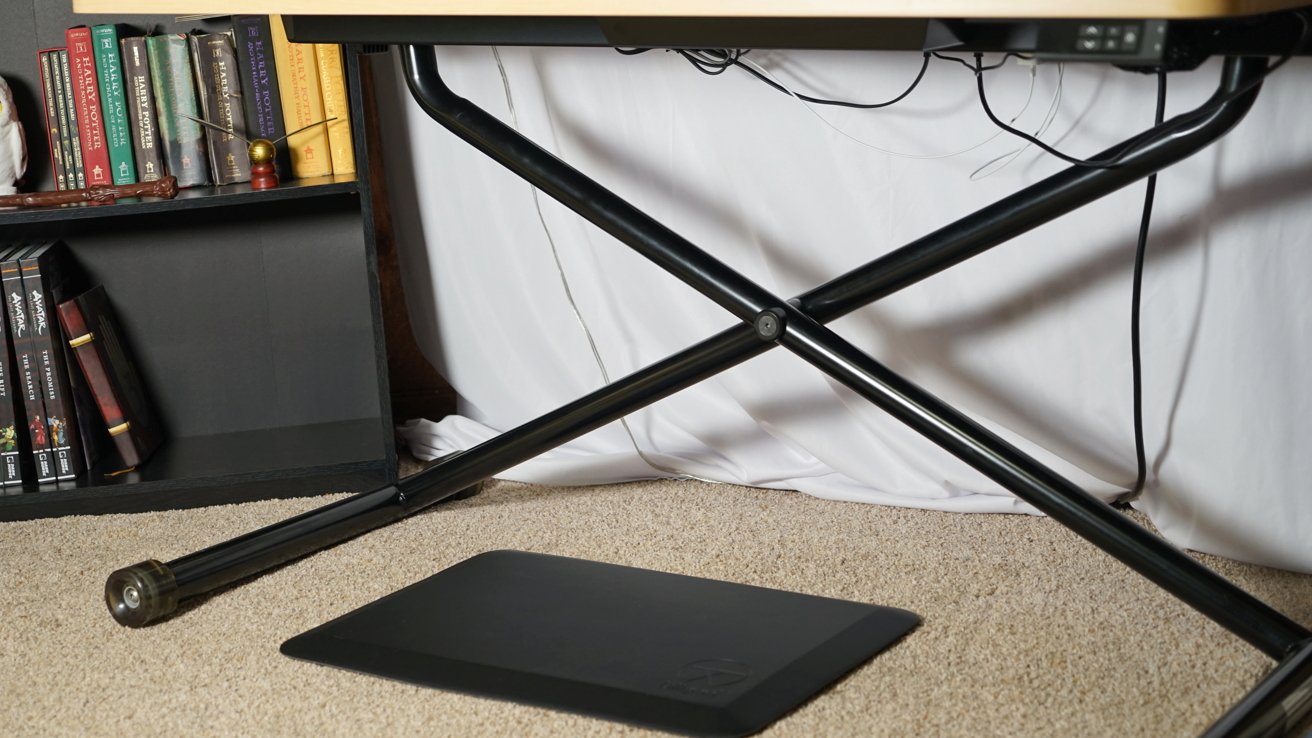 Ensure there is enough space for the desk to raise and lower
We included Lillipad in this roundup because it is one of the only sit-stand desks we've seen built for temporary workstations. It's an excellent concept that helps create the perfect work environment, even if it's going back under the bed a few hours later.

Source : https://appleinsider.com/inside/mac/best/best-standing-desk?utm_medium=rss