With iOS 17 finally available, BGR is gathering all the best apps that support StandBy Mode and Interactive Widgets on the Home Screen – two of the most important features of this software update. While we already gathered Apple Watch apps that take advantage of the new watchOS 10 version, this is our list of the best apps now with iOS 17 newest features.
Not Boring: Not Boring Apps, which include Vibes, Weather, Habits, Calculator, and Time, all have interactive widgets on the home screen and StandBy Mode support. Your iPhone Home Screen won't look boring anymore.
Gentler Streak: The best fitness tracking app that helps you improve your life habits without overtraining now supports both StandBy Mode and Interactive Widgets. You can monitor Go Gentler suggestions and/or your current fitness condition or start a Go Gentler workout directly from your iPhone's home screen.
Flighty: The best app to track your or your friends' flights, Flighty now supports StandBy Mode. With that, you can see your flight status and time at your bedside or when a friend arrives at their destination.
Posture Pal: Helps you improve your posture while wearing AirPods. It adds an Interactive widget to start tracking your posture from the home screen and StandBy Mode support.
Cardiobot: The heart rate monitor now adds a bunch of health-related widgets while also adding StandBy Mode support.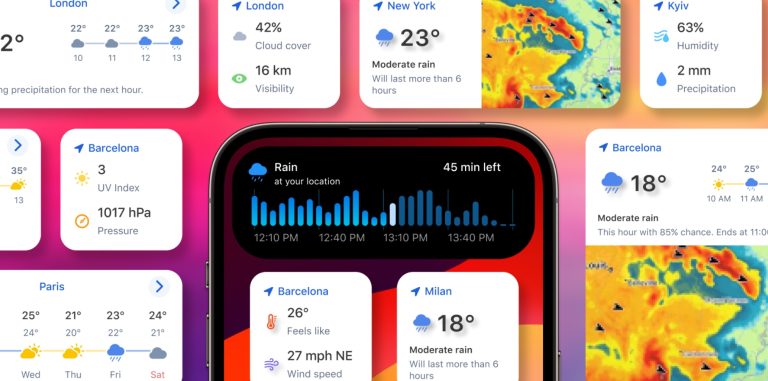 RainViewer: This app gives you highly accurate forecasts directly from weather radar. The iOS 17 update adds Dynamic Live Activities and Dynamic Widgets.
Lumy: The perfect company for anyone who wants to be in tune with the sun. You can add a Sun Event Countdown Widget, a Daylight Distribution Dial Widget, or a Moon Widget with iOS 17. It also has Interactive Widget support so you can schedule notifications for sun events directly from the home screen.
CARROT: The best third-party weather app available, CARROT has also added interactive widgets for those running iOS 17. The app also focused on a watchOS 10 redesign with customized data points, the ability to tap any section to see more details, and the toolbar at the top to bring up weather maps or your saved locations.
Planny: Plan your day or create smart lists with this app. With iOS 17's interactive widgets support, you can check items from your list or use StandBy Mode.
LookUp: One of the best options for English learners and word enthusiasts also got support for iOS 17 latest features.



Source : https://bgr.com/tech/best-ios-17-apps-with-standby-mode-and-interactive-widgets-support/