Apple aims to become carbon neutral by 2030. But instead of only making its offices and stores run with clean energy, the company has extended this commitment to its manufacturers – otherwise, it would be a weak promise.
But today's Greenpeace East Asia study shows that the decarbonization efforts by 11 of the biggest suppliers to the world's top consumer electronic brands aren't going as smoothly as they should.
"It's encouraging to see that electronics manufacturers are finally recognizing the need for climate action, but progress has been uneven and too slow. Unfortunately, emissions from five of the biggest electronics manufacturers, including Samsung Electronics, Foxconn, and Intel, increased in 2022. Tech companies boast a lot about going green, but when you look at the bigger picture, you see that their supply chains are extremely dirty. Climate action by Samsung Electronics and Foxconn has been remarkably weak," said Climate and Energy campaigner Xueying Wu. 
For example, Foxconn, Apple's iPhone maker, reported the highest emissions of all final assembly companies in the raking. In 2022, the company's emissions exceeded the annual emissions of Iceland, and its renewable electricity ratio was just 8%, compared to 24% of its rival Luxshare Precision.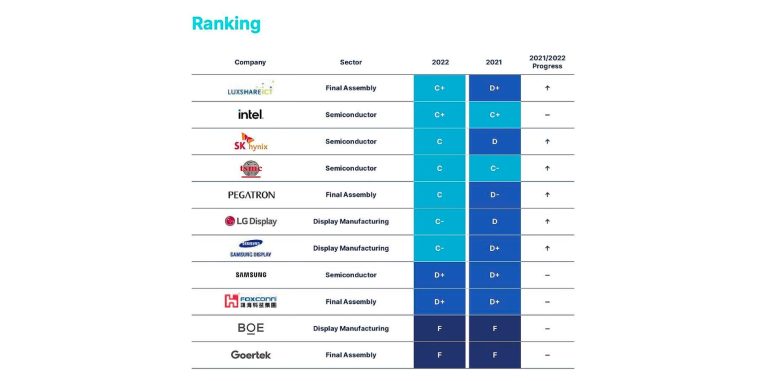 On the other hand, Luxshare, which produces Apple Vision Pro and Airpods, received the highest grade in the ranking and improved by a full grade point year after year. In April 2023, Luxshare Precision pledged to achieve 50% renewable energy by 2025, and in 2022, the company sourced more than 70% of its renewable electricity from high-impact methods. However, it still lacks a target for 100% renewable energy use by 2030.
Most manufacturers don't have a climate commitment to achieve emission reductions and 100% renewable energy by 2030, which goes from LG Display and Samsung Display to Pegatron, BOE, and Goertek – all of which work with Apple.
That said, Samsung, Boe, Goertek, and Luxshare don't even have a target for 2030 emission reduction, while LG Display, Foxconn, Pegatron, and TSMC have only "under 50%" in seven years from now.
With that, climate and energy campaigner Wu called out Apple. He said: "Brands like Apple and Microsoft should not promote their products as 'green,' when their supply chains are still powered by coal and gas. It's time for tech suppliers to take the initiative and transition to 100% renewable energy by 2030. It is absolutely feasible for every supplier in this ranking to achieve .100% renewable energy within the decade, but the first step is setting ambitious targets," said Wu
You can read the full study here. BGR reached out to Apple for a comment, and we'll update the story when we hear from the company.

Source : https://bgr.com/tech/apple-manufacturers-improve-decarbonization-process-but-not-foxconn/