Release week for the iPhone 15 has arrived, and to kick things off, the embargo has dropped on Apple's latest version of the AirPods Pro.
When the company hosted its special event last week, AirPods Pro 2 didn't get any time in the keynote video. Instead, Apple quietly announced an update to the earbuds through a press release, confirming that they — just like the iPhone 15 lineup — were also getting a USB-C port.
So, if you have the Lightning version of the second-generation AirPods Pro, is it worth upgrading to the version with USB-C? Well, according to the reviews, it seems that it depends on just how much you care about what USB-C enables or if Apple's Vision Pro headset is in your future.
The upgrade doesn't make sense for most
Almost all of the reviews coming in confirm that the new earbuds are basically the same as their Lightning counterparts — save for a few differences. For one, the USB-C port not only enables you to charge using the same cable as your iPhone, iPad, and Mac, but you'll now be able to charge your USB-C AirPods Pro using your iPhone 15.
A smaller detail that many overlooked is that the new AirPods Pro 2 are now dust-resistant. According to Apple, the new version features "an improved IP54 rating for the earbuds and case." In addition, the company said that this new version would exclusively enable lossless audio with the Vision Pro headset when it launches next year.
AirPods Pro (2nd generation) with MagSafe Charging Case (USB‑C) will enable Lossless Audio with ultra-low latency to deliver the perfect true wireless solution with Apple Vision Pro.2 The H2 chip in the latest AirPods Pro and Apple Vision Pro, combined with a groundbreaking wireless audio protocol, unlocks powerful 20-bit, 48 kHz Lossless Audio with a massive reduction in audio latency.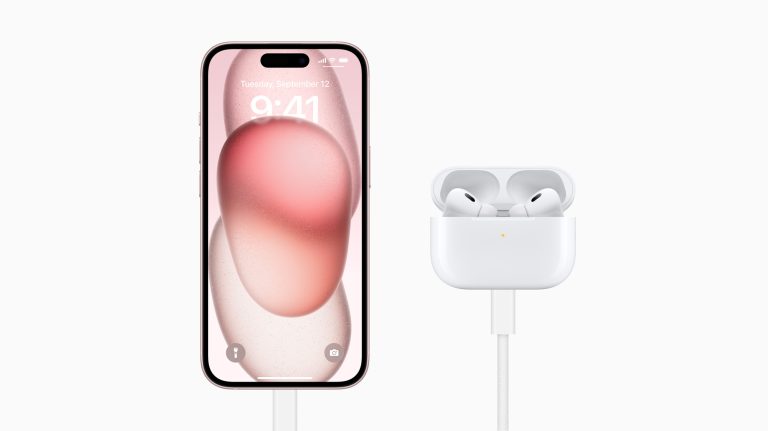 Curiously, this lossless audio experience only works with the Vision Pro but not the iPhone, iPad, or Mac yet. Hopefully, Apple will add the H2 chip to its other devices so this "groundbreaking wireless audio protocol" can be enjoyed across all of its devices.
So, if you really want to charge everything with USB-C or have a Vision Pro in the future, the upgrade seems worth it. Otherwise, you'll be perfectly fine keeping your Lightning AirPods Pro 2 — especially since all of the new software features from iOS 17 are coming to the current version:
Adaptive Audio: This new listening mode dynamically blends Transparency mode and Active Noise Cancellation, adjusting the noise control based on the sound in a user's environment. The breakthrough experience, unlocked by advanced computational audio, allows users to stay aware of their surroundings, while distracting noises — like group chitchat at the office, a vacuum at home, or the din of a local coffee shop — are reduced.
Conversation Awareness: When a user begins speaking to someone nearby — whether they're having a quick conversation with a colleague or ordering lunch at a cafe — Conversation Awareness helps to lower the content volume, enhance the voices in front of the user, and reduce background noise.
Personalized Volume: Using machine learning to understand environmental conditions and volume selections, Personalized Volume automatically fine-tunes the listening experience for users based on their preferences over time.
Review video round-up
If you want to get your fill of AirPods Pro 2 with USB-C content anyway, below is a round-up of all of the review videos that have hit YouTube now that the embargo is lifted. Let's get into iPhone launch week by binging some AirPods Pro 2 videos:



Source : https://bgr.com/tech/airpods-pro-2-with-usb-c-reviews-show-that-its-only-worth-the-upgrade-for-the-vision-pro/