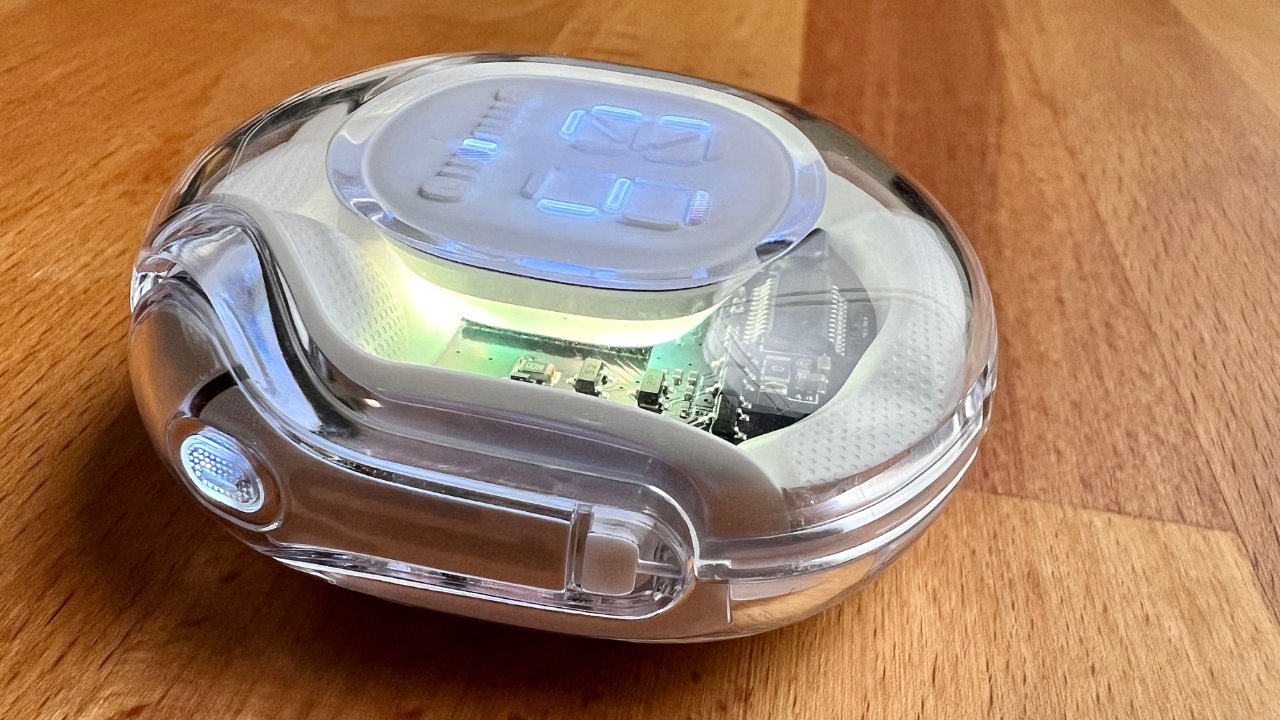 ---


AppleInsider may earn an affiliate commission on purchases made through links on our site.

Standard wireless earbuds can become a mundane piece of tech lacking personality. If you are tired of boring white or black earbuds, check out the flashy Acefast Crystal (2) T8.
When you are one of many who use wireless earbuds daily, the predictable colors owned by the masses can start to look drab and bleak. The Acefast T8 wireless earbuds can add visual interest to match your creative personality. That is if you want to stand out with lighting effects.
Acefast Crystal (2) T8 earbuds – design
The Acefast T8 earbuds have an eye-catching transparent design, and the inside of your earbuds and charging case are visible. You have six luminous colors to choose from, such as lotus pink, ice blue, and mint green.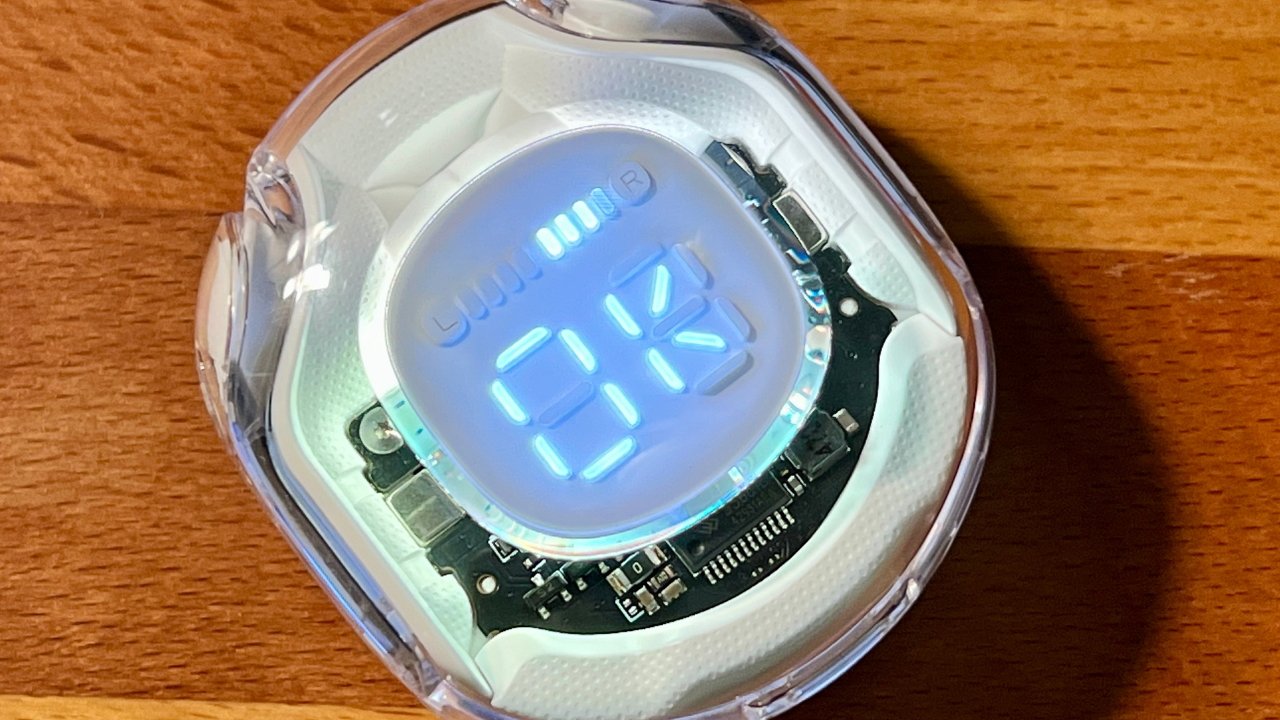 Acefast Crystal (2) T8 shows the battery percentage on the charging case
The lights on the earbuds blink when activated or paired with a Bluetooth connection. The charging case features a mesmerizing breathing light and shows the battery percentage in twinkling digits from 99% onwards. It lets you know when it is at 100% battery by displaying the word OK.
The earbuds did not have as much of a curved design as more ergonomic earbuds such as the AirPods Pro. However, it was snug enough not to fall out during a strength training workout on Apple Fitness Plus.
For busy users on the go, these earbuds are resistant to sweat and raindrops and come with a lanyard carrying case. These features make it practical for commuting and traveling on rainy days.
Acefast Crystal (2) T8 earbuds – features
When you take the earbuds out of the charging case, they turn on automatically. The earbuds are touch-control sensitive, so you can tap to control volume and playback when listening to music and tap to answer, reject, or end a call.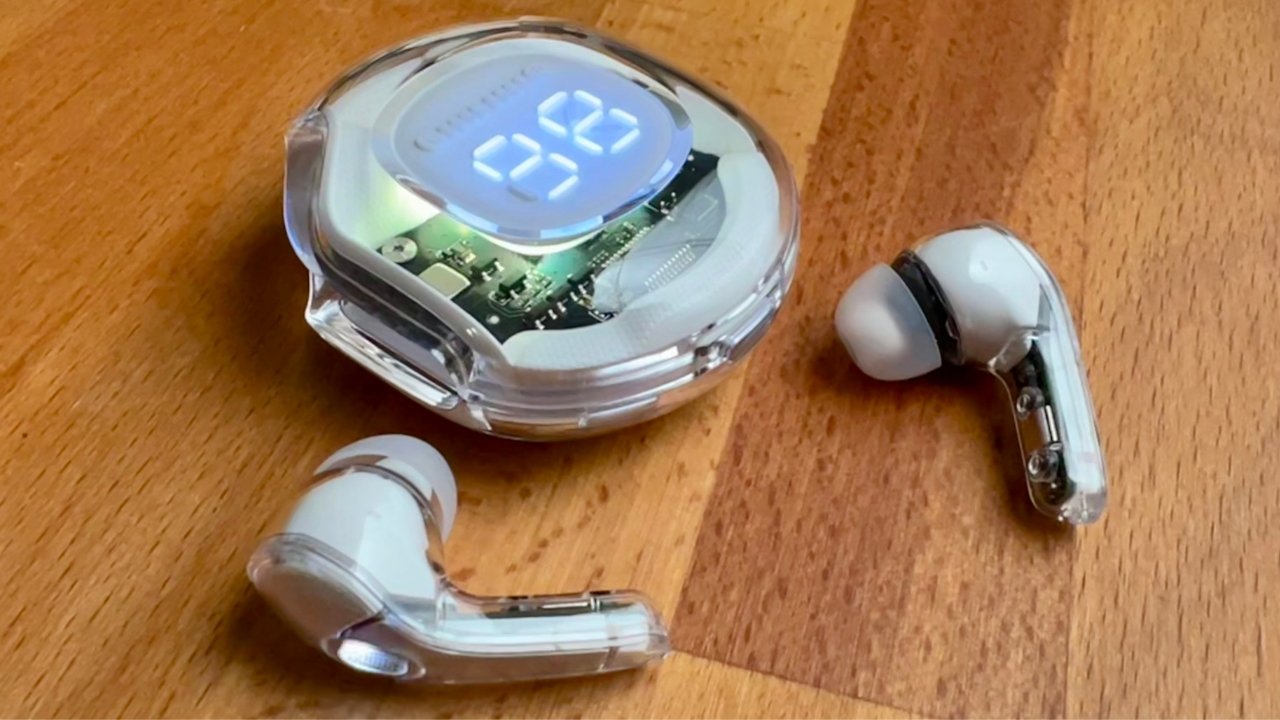 Acefast Crystal (2) T8 (in White Moon color): Clear case and earbuds with lighting effects
These earbuds were tested during an hour-long phone call, and they performed well, providing clear audio and no connectivity issues. The wireless Bluetooth range is up to 100 feet, and the audio will start to chip out when approaching the distance limit.
The battery life was decent. Acefast claims they will give you up to 7 hours once fully charged and up to 30 hours when used with the charging case.
Although it delivered clear vocals, the instrumental sounds were mediocre when using this to listen to music. It had a decent bass kick, but the mids and highs were flat, and these did not sound as well-rounded and balanced as other budget earbuds, such as the Tozo NC9.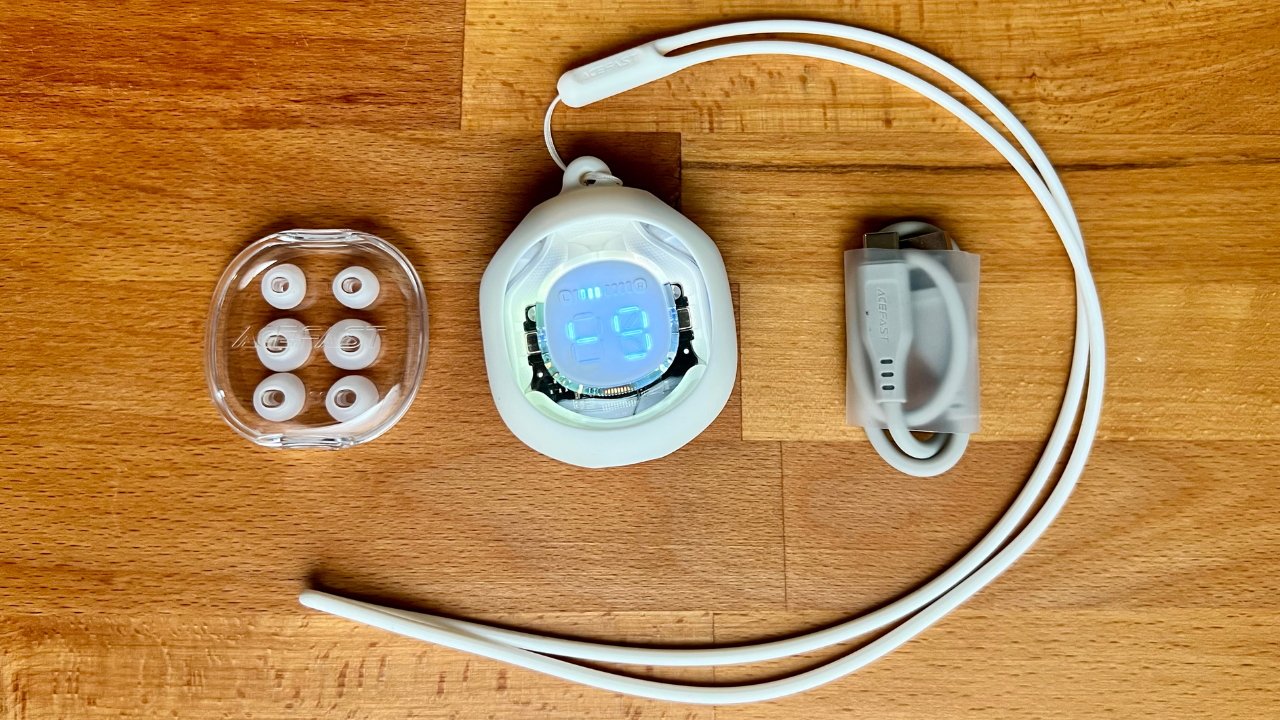 Acefast Crystal (2) T8 earbuds come with extra ear tips, a lanyard case, and USB-C charging cable
What affected the audio performance of these earbuds was that they do not come with active noise cancellation (ANC). Due to this, you will not have a truly immersive music-listening experience.
You can still crank the volume way up despite the lack of ANC. The volume can get so loud you can listen to music while munching on potato chips. The key to improving your music listening experience is to have a proper seal to your ear, and these earbuds include varying sizes of ear tips to do just that.
The Acefast Crystal T8 earbuds are not the best for music but provide vocal clarity and stable wireless connectivity. The lighting effects are not for everybody, but these could make a brilliant gift for someone who enjoys lively colors and dazzling lights.
Acefast Crystal (2) T8 earbuds pros
Very loud maximum volume

Microphone delivers clear audio for calls

Decent battery life

Responsive touch controls

Fast and stable Bluetooth connection

Colorful breathing light effects

Comes with lanyard carrying case
Acefast Crystal (2) T8 earbuds cons
Not noise canceling

Mediocre performance when listening to music
Rating: 3.5 out of 5
Where to buy
You can get the Acefast Crystal (2) T8 earbuds directly from their website. They retail for $99.99 but are currently on sale for $69.99.

Source : https://appleinsider.com/articles/23/03/18/acefast-crystal-2-t8-review-flashy-and-loud-wireless-earbuds?utm_medium=rss